Sesame Beef Stir-Fry
By shahdan • March 22, 2015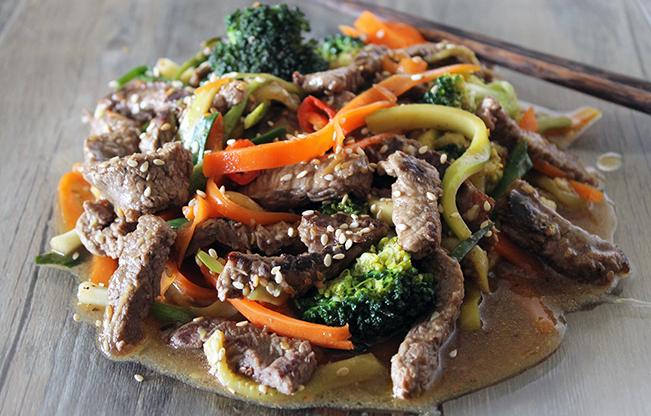 This is a straight-forward stir- fry recipe. It doesn't need complicated ingredients except maybe the sesame oil which you can still substitute with vegetable oil (although the sesame oil gives the dish its special Asian aroma). If you learn the Asian sauce from this recipe, you will find yourself using it for other chicken and shrimps stir- fries as well.
Ingredients
500 gram

beef fillet cut into thin strips - فيليه كندوز

4

zucchini - كوسة

4

carrots - جزر

5

spring onion - بصلة خضراء

1 medium

broccoli - بروكلى

1 cup

vegetable stock - مرقة خضار

5 tablespoon

soy sauce - صوص الصويا

2 cm piece

fresh ginger - جنزبيل

3 tablespoon

sesame oil - زيت السمسم

5

garlic cloves cushed - فصوص ثوم

2 tablespoon

corn flour dissolved in 1/4 cup of water - نشا

2 tablespoon

sesame seeds - بذور السمسم
Step by step
In a bowl, mix together the stock, soy sauce, ginger, garlic, and corn flour/ water mixture.
Heat 1 tbsp. sesame oil in a large frying pan or wok, and add the beef. Stir fry until cooked through, then remove and set aside. If it releases water, wait until the water is absorbed and the meat is nicely browned.
Heat the remaining oil and add the carrots, spring onions, zucchini, broccoli florets and the red chili pepper. Stir fry for 2 minutes.
Finally stir in the beef and the stock mixture and leave to simmer for 4 minutes or until the sauce thickens.
In the meantime, toast the sesame seed in a dry pan on medium heat for 1-2 minutes or until golden.
Sprinkle the sesame seed over the beef and serve with white basmati rice.