White Beans with Zucchini and Spinach
By yasmine • February 22, 2022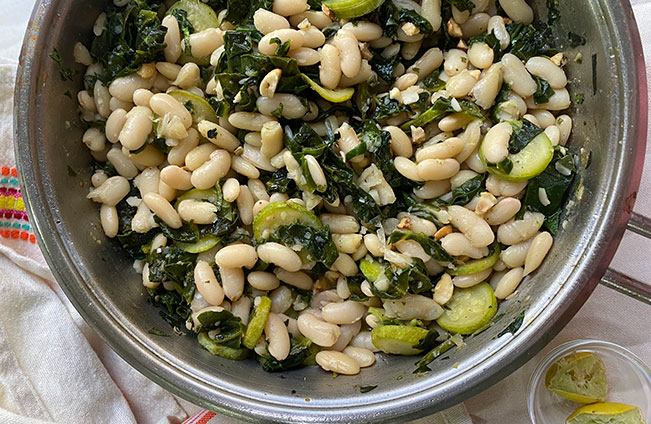 This White Beans with Zucchini and Spinach recipe is so simple, yet so delicious! White beans cooked in broth, garlic and lime juice make for one tasty side dish. Perfect for mid-week meals and even cold for breakfast!
Ingredients
2 tablespoon

olive oil - زيت زيتون

3

garlic clove (minced) - فص ثوم

2 medium

zucchini (sliced) - كوسة

salt and pepper - ملح و فلفل

1 cup

broth - مرقة

1 cup

baby spinach - سبانخ صغيرة

2 cup

white beans - فاصوليا بيضاء

2 tablespoon

coriander (finely chopped) - كزبرة

2 tablespoon

hazelnut (toasted & roughly chopped) - بندق

1

lime (juiced) - ليمون بلدي
Step by step
To cook the white beans, wash and soak in fresh water for 30 minutes. Then boil in a large pot of water for 2 hours, like you would cook pasta.
Heat olive oil in a large pan. Stir in minced garlic for a couple of minutes.
Add sliced zucchini and salt & pepper. Stir for a couple of minutes then add broth. Bring to a boil.
Lower heat and cover. Let zucchini simmer for 10 minutes before adding the chopped spinach.
Follow with the cooked white beans and adjust seasoning. Stir to combine. Squeeze lime juice on top.
Take the beans off the heat and stir in fresh coriander. Sprinkle toasted hazelnuts on top and serve warm.