Molasses & Ginger Roasted Salmon
By yasmine • December 15, 2015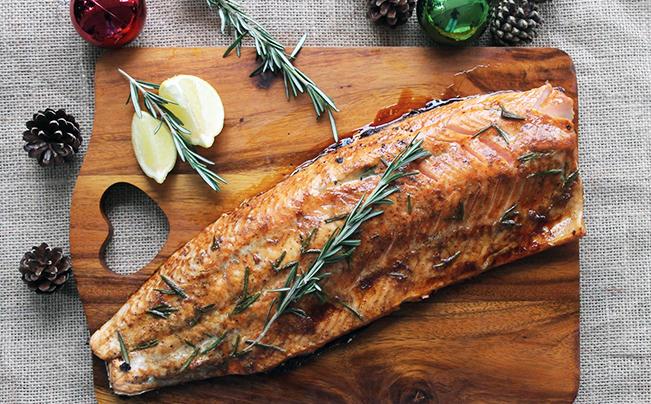 After several years of grilling salmon and watching cooking shows, I perfected my salmon. It is moist, sweet & savory with deep gingery notes… a must try!
Consider serving our simple asparagus or roasted vegetable side next to it.
Ingredients
700-800 gram

salmon (fillet) - سمك السلمون

2 tablespoon

sesame oil - زيت السمسم

3 tablespoon

molasses - عسل أسود

3 teaspoon

fresh ginger (freshly grated OR ground) - جنزبيل

4

garlic cloves (minced) - فصوص ثوم

3 tablespoon

soy sauce - صوص الصويا

black pepper (to taste) - فلفل أسود

2 tablespoon

rosemary (leaves only) - روزماري/ إكليل الجبل
Step by step
In a small bowl, mix the sesame oil, molasses, ginger, garlic, soy sauce, fresh pepper and half of the rosemary.
Put the defrosted salmon fillet into a zip lock or fridge plastic bag (wrap it in kitchen paper) and add the mix to it. Make sure the liquid is distributed evenly around the salmon, seal the bag and place it in the fridge for a minimum of half hour (it can stay a full day in the fridge) to marinate.
Preheat the oven to 180C and line a large oven tray with parchment paper.
Put the salmon skin-side down with all the sauce on the the tray and place it in the middle of the oven. Let it bake for 20-25 minutes. You can re-scatter the fallen sauce over it a couple of times while baking. Don't panic if the sauce remains turns dark, this is the effect of the caramelization of the molasses.
Garnish with the remaining fresh rosemary and serve it warm.