Super Tasty Super Simple Asparagus
By yasmine • April 17, 2015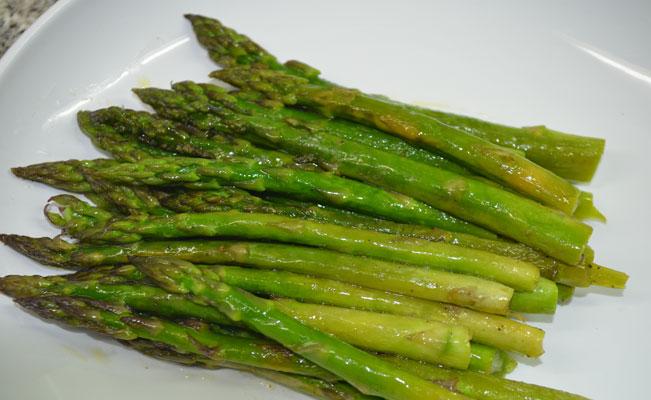 This is the type of recipe you will find yourself doing over and over again for your everyday meals or when you have people over cause it is easy and delicious – while paying respect to the this yummy and nutritious green vegetable.
Ingredients
500 gram

asparagus - الهليون

1 tablespoon

butter - زبدة

1 tablespoon

olive oil - زيت زيتون

2 drop

hot chili sauce (optional) - صوص حار

salt and pepper - ملح و فلفل

2

garlic cloves (minced) - فصوص ثوم
Step by step
Wash asparagus thoroughly and remove the lower (whitish) stem area with your hand. The part that will snap easy in your hand – that's the only part you want to get rid of in the asparagus.
Put the asparagus in boiling water for 5 minutes on the stove then remove it into ice or cold water to stop the cooking process and guarantee a nice green colour.
Ten minutes before serving it, melt butter in a large pan on medium heat. Stir in the asparagus, salt and fresh ground pepper as well as garlic and hot sauce. Then drizzle the olive oil on top just before taking it off the stove.
Don't let the asparagus cook longer than 10 minutes so it stays al-dente and not overcooked.