Zaatar & Lime Chicken with Roasted Onions
By yasmine • February 11, 2020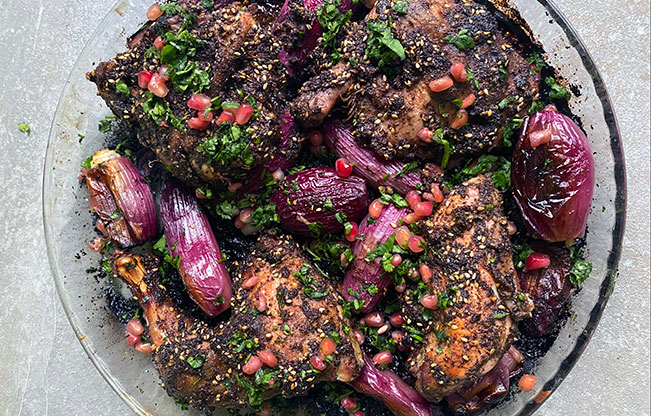 If you bought or were gifted Zaatar mix from Lebanon or Palestine, then this Zaatar & Lime Chicken dish is just what you need to savor this beautiful authentic herb mix along with a citrussy and tender juicy chicken.
Aromatic, succulent and full of flavor, this recipe is straightforward and easy to execute. The addition of the baby red onions ensures a crunchy sweet signature to the dish. Serve it with white rice, vermicelli or freekeh and a green salad for a full meal.
Ingredients
1/3 cup

olive oil (divided) - زيت زيتون

2 tablespoon

sumac (divided) - سماق

salt and pepper - ملح و فلفل

red onions - بصل أحمر

5

garlic cloves (minced) - فصوص ثوم

4

lime (juiced) - ليمون بلدي

4 tablespoon

Zaatar - زعتر محوج

1 whole

chicken (quartered) - دجاج

2 tablespoon

pomegranate seeds - بذور رمان

2 tablespoon

coriander (finely chopped) - كزبرة
Step by step
Place baby onions in an oven dish and drizzle with 2 tablespoons olive oil, 1 tablespoon sumac and generous amount of salt & pepper. Use your hands to distribute the marinade. Set aside.
To prepare the chicken marinade, combine the rest of the olive oil, sumac, zaatar, minced garlic and lime juice in a small bowl. Season with salt and pepper to taste and stir.
Tip the marinade over the chicken quarters and make sure to distribute it evenly and between the chicken meat and skin.
Place the marinated chicken over the onions and cover. Place it in the fridge for one hour or overnight to get all the flavors in.
To roast the chicken, preheat oven to 200C. Place the tray uncovered for 15 minutes, then lower heat to 180C. Cover the tray and leave it for another 30 minutes or until completely cooked-through and moist.
Let it rest for 10 minutes covered before you garnish with pomegranate seeds and freshly chopped coriander. Serve warm.