The Perfectly Roasted Quail
By Shewekar Elgharably • June 15, 2015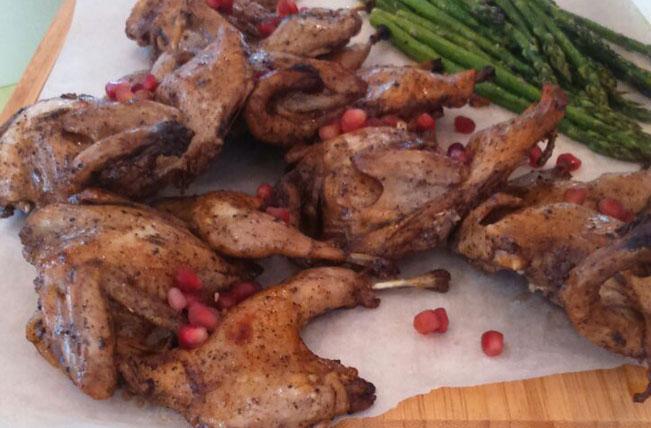 Impress your guests with this super easy-to-follow roasted quail dish. All you need to do is marinate the quail and pop in the oven 20 minutes before serving time. Simple and delicious!
Ingredients
4

quail - سمان

2

red onion (thinly sliced) - بصلة حمراء

2

garlic clove (crushed) - فص ثوم

1 teaspoon

salt - ملح

1 teaspoon

black pepper - فلفل أسود

1

cinnamon sticks (crushed) - عيدان قرفة

1 teaspoon

all spice - بهارات

1

orange zest - قشر برتقال

1

lemon zest - قشر الليمون

4 tablespoon

olive oil - زيت زيتون

3 tablespoon

pomegranate molasses - دبس رمان

½ cup

pomegranate seeds (optional) - بذور رمان
Step by step
Preheat oven to 180C.
Place the quails in a glass bowl. Add the onions, garlic, cinnamon, all spice, salt, pepper, orange & lemon zest, olive oil & molasses.
Rub the marinade into the quails, cover and leave to marinate in the fridge for at least two hours.
Place the quails breast-side down and roast for 20 minutes, half-time turn the birds over and brush them with the pomegranate molasses mixture.
Remove from the oven, sprinkle with the pomegranate seeds and serve hot.