Colorful Tuna & Quinoa Salad
By CairoCooking • September 16, 2016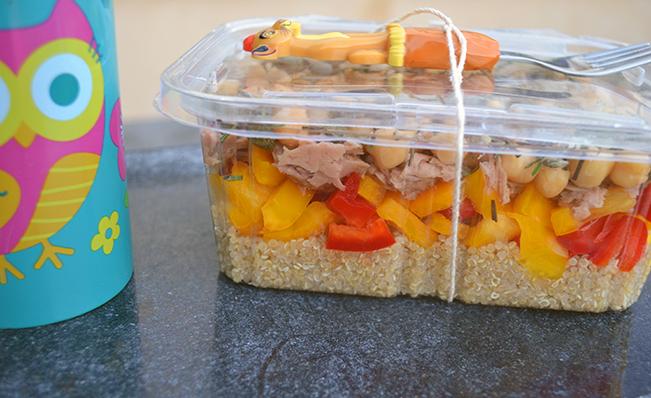 A colourful tuna & Quinoa salad packed with vitamins and healthy protein. Place it in a packed box or a salad jar to stay with you a full day.
Ingredients
1/2 cup

quinoa - كينوا

1 cup

boiling water - ماء ساخن

1 pack

tuna fish (preferably smoked) - تونة

1 small

yellow pepper (cut in small cubes) - فلفل أصفر

1 small

red pepper (cut in small cubes) - فلفل أحمر

1 handful

capers - حب الكبر

1 can

hummus (washed) - حمص

1 tablespoon

rosemary - روزماري/ إكليل الجبل

DRESSING:

1/4 cup

olive oil - زيت زيتون

2

lime - ليمون بلدي

1 teaspoon

honey - عسل

black pepper - فلفل أسود

1 teaspoon

Dijon mustard - مسطردة ديجون
Step by step
Mix the dressing ingredients in a small bowl and set aside.
Cook the quinoa by adding boiling water in a medium pot followed by the quinoa. Cover the pot and set heat to low and let it cook for about 15 minutes or until cooked through and fluffy. You can also follow the instructions on the pack for cooking quinoa.
In the meantime, chop the colored peppers into small cubes. Finely chop rosemary. Wash hummus from its preservative water and let it dry.
To pack the salad for your lunchbox in a jar or a tight container, put a layer of cooked quinoa followed by the coloured peppers then the tuna topped with the hummus and capers and sprinkled with rosemary. You can add the dressing on top and let it marinate until you eat it.