Roast Chicken with Lime & Herbs
By shahdan • February 3, 2016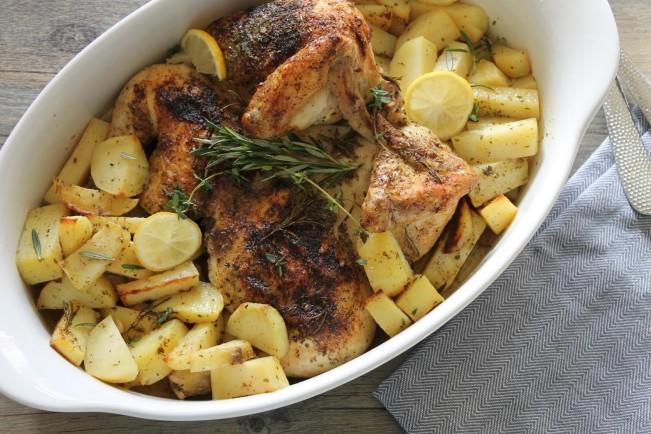 When it comes to chicken, the combination of lime, thyme and rosemary is always phenomenal! With no added onions, this succulent & moist chicken roast is infused with the most delicate herbal aromas. The lime adds extra freshness, while the fragrant roasted potatoes make it absolutely comforting. This is what I call a joyful meal!
Ingredients
1 small

chicken (about 1 kg) - دجاج

2 medium

lime - ليمون بلدي

2 sprig

rosemary - روزماري/ إكليل الجبل

4 sprig

thyme (or 2 tsp. dried thyme) - زعتر

1/2 teaspoon

garlic powder - بودرة ثوم

2 drizzle

olive oil - زيت زيتون

4 medium

potatoes - بطاطس

2 small

garlic cloves minced - فصوص ثوم

sea salt (to taste) - ملح البحر

black pepper (to taste) - فلفل أسود
Step by step
Marinate the chicken with the juice of one lime, salt, freshly cracked black pepper, garlic powder, and half the rosemary and thyme quantity. Cover and leave to marinate in the fridge for at least one hour.
Preheat the oven to 180C.
Peel and slice the potatoes and place in an oven-proof dish. Add minced garlic, salt, pepper, thyme, rosemary, and a drizzle olive oil. Toss the potatoes together and arrange on the baking dish. Add half a cup of water on the potatoes to help them cook without burning.
Place the marinated chicken over the potatoes. Sprinkle with extra thyme on top. Arrange sliced lime over the chicken. And finish it off with a drizzle of olive oil.
Bake uncovered for 60- 75 minutes or until the chicken and the potatoes are cooked through. Ovens may vary so if you feel that the surface will burn, you can cover the dish with foil for half of the baking time. Best served with white rice and a simple salad.