Clear Zucchini Chicken Soup
By yasmine • May 15, 2015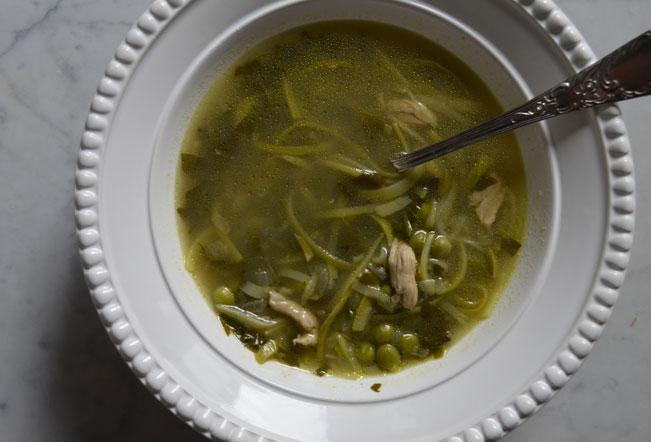 A fresh yet hearty soup is like a warm hug! Especially when it is not creamy and heavy like most veggie soups. The vegetarian version (just leave out the chicken) is really yummy too especially if your vegetable stock is fresh and wholesome. I used the greens-based stock shared in a previous post – and it was delicious!
Ingredients
2 tablespoon

olive oil (for cooking) - زيت زيتون

1 large

onion (minced) - بصلة

4 piece

zucchini (shredded) - كوسة

1 cup

peas - بسلة

4 cup

vegetable stock - مرقة خضار

2 stalks

celery (finely chopped - including leaves) - كرفس افرنجي

250 gram

boneless chicken (cut lengthwise) - دجاج مخلى

1 tablespoon

dried mint (optional for garnish) - نعناع مجفف/ ناشف
Step by step
Over medium heat, add onions and celery to olive oil in a soup pot. Once the onions are almost transparent in colour (don't let them fry too long), add the chicken.
Stir the chicken with the onions for a couple of minutes then add the zucchini and peas followed by the stock.
All should cook together for about 15 minutes then served hot with some dried mint as garnish.