Asian Quinoa Salad
By shahdan • February 20, 2022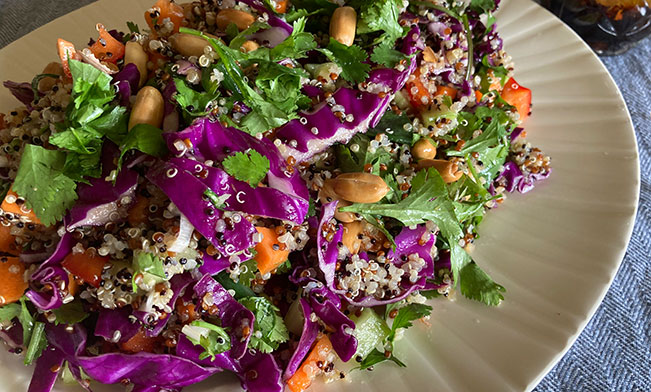 This salad is so flavourful and full of nutrient-dense ingredients. Quinoa is a great substitute for rice and is a great option for people with diabetes. Quinoa tends to be bland on its own, however adding it to a salad makes it more tasty and exciting. This salad can be a good introduction to quinoa, especially for people who don't like it.
Serve this salad next to chicken, beef or salmon for a nutritious and filling meal, or just on its own as a complete vegetarian option. Omit the honey to keep it vegan, or replace it with maple syrup.
Ingredients
1/2 cup

quinoa - كينوا

1 cup

water - ماء

1/4 whole

red cabbage (thinly sliced) - كرنب أحمر

1 large

red pepper (diced) - فلفل أحمر

2 medium

cucumber (diced) - خيار

2 medium

carrots (diced) - جزر

2 medium

spring onion (finely chopped) - بصلة خضراء

1/2 bunch

coriander (choppped) - كزبرة

1 handful

unsalted peanuts (toasted) - سوداني غير مملح

DRESSING:

1/4 cup

extra virgin olive oil - زيت الزيتون بكر

4 tablespoon

soy sauce - صوص الصويا

2 tablespoon

vinegar - خل

2 tablespoon

sesame oil - زيت السمسم

1 tablespoon

honey - عسل

2 large

garlic cloves (minced) - فصوص ثوم

1 teaspoon

fresh ginger (grated) - جنزبيل
Step by step
To cook the quinoa, cover 1/2 cup of quinoa with 1 cup of water and bring to the boil.
When it boils, lower heat to a minimum and leave to cook uncovered until water is absorbed.
Turn off heat and cover for 10 minutes.
Fluff up the quinoa with a fork and leave it to cool before adding it to salad.
Place cooled quinoa in salad bowl and add all veggies.
Mix dressing ingredients in a small jar and add the desired quantity to the salad.
Add toasted peanuts and transfer to serving dish.
For best results, refrigerate for a few hours before serving.