Baked Sweet Potato Fish Pie
By yasmine • May 20, 2016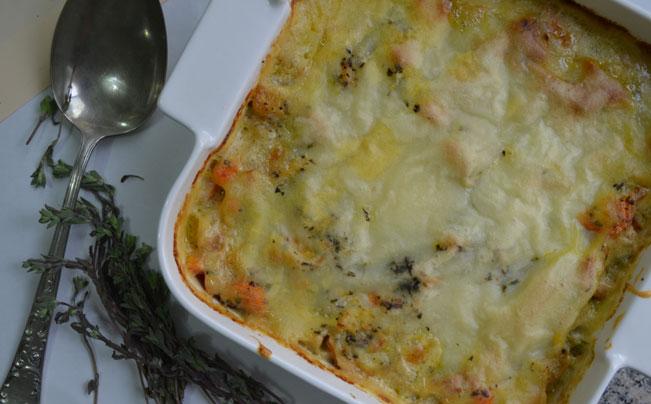 From 9 months.
My kids started eating fish at 8 and 9 months but every doctor has a different theory on fish, especially that some kids are allergic. Most importantly, fish must be peeled and deboned properly.
This recipe makes sure your toddler enjoys eating this nutritious protein – along with safe and filling root veggies. You can add other veggies like green beans and peas (recommended after 12 months) as well as zucchini and mushrooms. The dish is creamy, and yummy and can be shared with older kids next to some brown or white rice.
For more toddler recipes, click here.
Ingredients
250 gram

bass fish (deboned & cut into bite-size cubes) - سمك قاروس

1 medium

sweet potato (peeled & diced) - بطاطا

1 small

potatoes - بطاطس

1

carrot (peeled & diced) - جزرة

1 pinch

nutmeg - جوزة الطيب

1 tablespoon

flour - دقيق

1/2 cup

cooking cream (optional) - كريم الطهي

1 tablespoon

oregano (minced) - أوريجانو/ زعتر

salt and pepper (for toddlers over 12 months) - ملح و فلفل

1.5-2 cup

full cream milk (enough to cover the cubed veggies) - لبن كامل الدسم
Step by step
Preheat oven to 180C. Make sure the fish is cleaned and properly deboned.
Peel and cut all veggies into toddler-bite-size cubes.
In a medium pot, heat milk while stirring in flour. As it the flour dissolves and the milk starts sizzling, lower heat and add diced sweet potatoes, potatoes and carrots. Sprinkle nutmeg, salt and pepper (if using any) and cover partially.
After 15 minutes, add fish cubes and let it simmer for another 3 minutes.
Tip the mix into a small oven pan or pyrex. Drizzle cooking cream on top (if using any) and sprinkle oregano. Place it in the middle of the oven for 15-20 minutes or until top is slightly golden and all veggies are cooked through. Let it cool for a couple of minutes before serving to your toddler. You can also mash each serving with couple of tablespoons of rice for a full meal.