Braised Leeks
By yasmine • April 27, 2021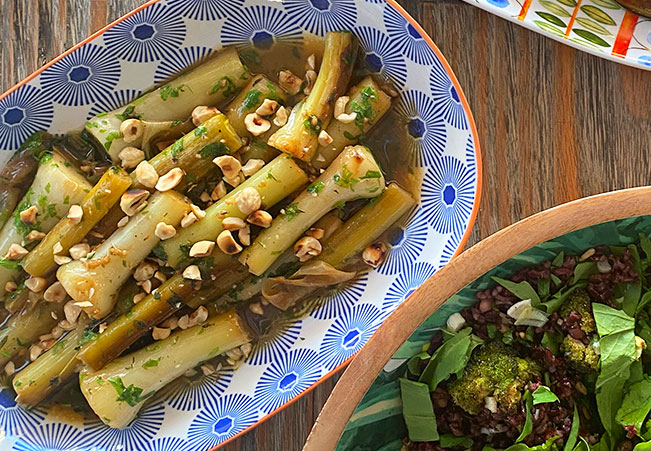 Leeks are a special crop that comes in season in short intervals. It is commonly used in our Falafel but there are so many other ways to enjoy its freshness and uniqueness, like this Leek & Potato Soup.
This recipe can be ready in 30 minutes, and a perfect side dish to all protein.
Ingredients
16-20 stalks

leek (around 4 bunch) - كرات

2 tablespoon

olive oil - زيت زيتون

salt and pepper - ملح و فلفل

1 tablespoon

butter - زبدة

4-5

garlic (minced) - ثوم

2-3 sprig

thyme (fresh & leaves only) - زعتر

1 cup

broth - مرقة

handful

parsley (finely chopped) - بقدونس

50 gram

hazelnut (handful) - بندق
Step by step
Heat olive oil in a large pan over medium. Add cut leeks. Season with salt & pepper.
Add minced garlic and butter. Stir the leeks around to get color on all sides.
Once leeks are golden, add 1 cup hot broth. Add fresh thyme. Bring it to a boil, then cover and lower heat to allow it to simmer for 15 minutes.
In the meantime, toast hazelnuts in the oven or in pan for 5 minutes. Make sure they are golden on all sides. Use a sharp knife ro roughly chop them into halves or quarters.
Once the leeks are cooked, remove lid and sprinkle chopped parsley and adjust seasoning. Stir one last time then serve hot. Sprinkle toasted hazelnuts.