Banana & Coconut Bread
By Hend Wahsh • November 24, 2015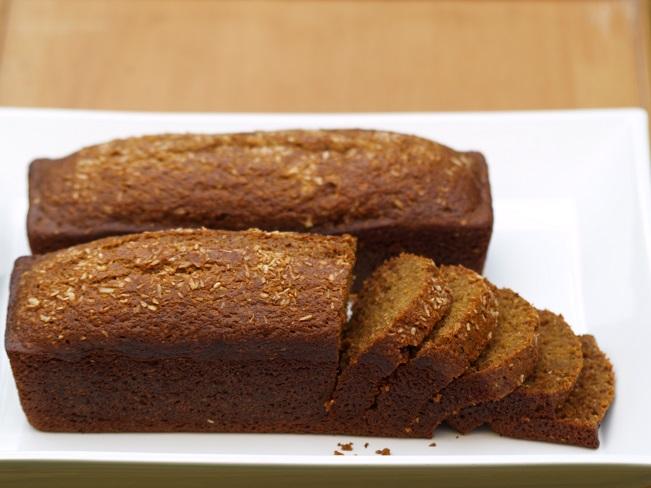 This bread is beyond scrumptious and moist with a divine smell. This is probably the most delicious way to start the day!
Recipe uploaded by Hend Wahsh.
Ingredients
1/2 cup

coconut oil - زيت جوز الهند

3/4 cup

sugar - سكر

3 whole

eggs - بيض

1 teaspoon

vanilla - فانيليا

1 1/2 cup

all purpose flour - دقيق أبيض

1 teaspoon

baking soda - بيكربونات الصودا

1 teaspoon

baking powder - باكينج باودر

2 tablespoon

flax seeds - بذور الكتان

2 tablespoon

chia seeds

1/2 teaspoon

salt - ملح

110 ml

yoghurt (1 cup) - زبادي

1/2 cup

coconut flakes - رقائق جوز الهند

3 large

bananas - موز
Step by step
Preheat oven to 180C. Grease a 23x12cm loaf pan with coconut oil and set aside.
In a large bowl, stir coconut oil and sugar. Then add eggs and vanilla, and whisk further.
Combine the dry ingredients (flour, baking soda and salt) and sprinkle over the wet ingredients mixing gently until smooth.
In a separate bowl, mash the bananas then add coconut flakes.
Add the banana coconut mix to the main dough followed by yogurt, flax seeds & chia seeds (both grounded). Mix well.
Spread the dough evenly into the prepared pan. Sprinkle the top with more shredded coconut
Bake at 180C for 60-65 minutes, or until a toothpick inserted into the center of the loaf comes out clean. If after 25 minutes the coconut gets too toasty, cover the loaf with foil for the rest of the baking time.
Cool in the pan for 10 minutes before transferring to a wire rack to cool.