Chewy Toffee & Nut On Biscuits
By yasmine • December 18, 2015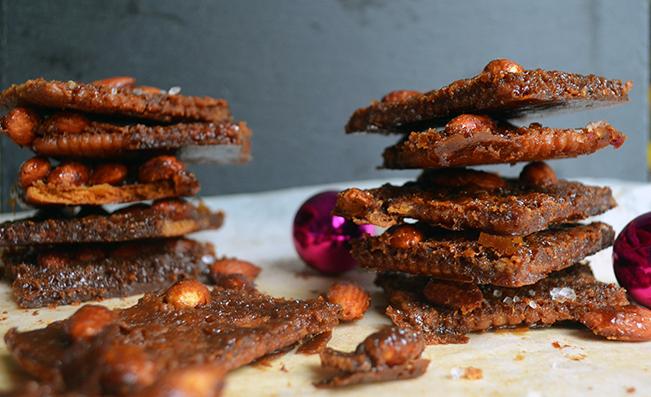 It is chewy from the toffee, crunchy from the bottom biscuit while the whole almonds give it a nutty twist. You can have it completely sweet or add some sea salt on the toffee before you place it in the oven. A must try! It also makes a great gift to friends.
Ingredients
200 gram

butter - زبدة

1 cup

brown sugar - سكر بني

1/2 cup

almonds - لوز

sea salt (OPTIONAL - to taste) - ملح البحر

100 gram

Graham Crackers OR any hard thin biscuit (about 15 squares)

pinch

salt - ملح
Step by step
Place biscuits in a medium depth rectangular or square baking tray or a Pyrex (20x40cm). The biscuits should form one layer.
In a medium pot, melt the butter then add sugar on low/medium heat. Stir occasionally to make sure the sugar dissolves. As it comes to a boil, the color will change into a deep brown. The toffee should be done in a total of about 15 minutes. If you have a thermometer, it should read 140C.
Add almonds in the last two minutes of cooking the toffee. Once the toffee mix is ready, pour it over the biscuits to form an even layer. If you like your toffee salted, this is when you sprinkle some sea salt on top.
Place the toffee biscuits in the middle of the oven for 10 minutes to bake together. As you take it out of the oven, make sure you let it cool before touching the hot content.
You do not need to cut into the toffee to serve. The toffee-topped biscuits can be pulled apart by hand (might need a little help from a knife). Serve it warm or keep in an airtight container for up to a week.