Chicken & Chickpea Fatta
By shahdan • April 19, 2021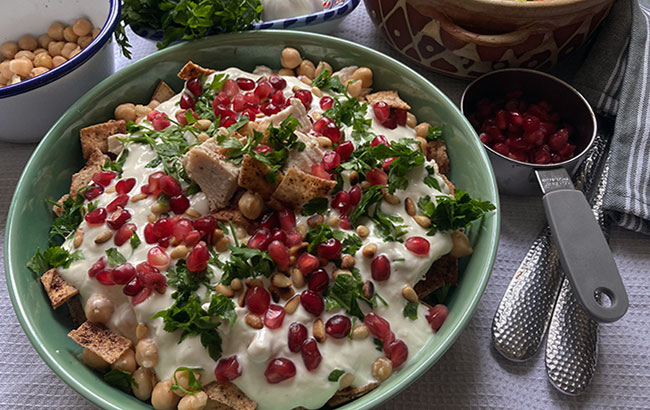 Flavourful chicken slices and lemony chickpeas are served over a bed of sumac-seasoned crispy bread and covered with a rich garlicky yoghurt-tahini sauce. This is an easy yet super tasty version of everyone's favourite fatta.
For best results, make sure the yoghurt is at room temperature before assembling the dish. This will ensure that the fatta will be served nice and warm.
Ingredients
2 large

shamy bread - خبز شامي

1.5 teaspoon

sumac - سماق

4 tablespoon

olive oil - زيت زيتون

2 large

chicken breast fillet (sliced) - صدور فيليه الدجاج

500 gram

yoghurt - زبادي

4 tablespoon

tahini (straight from the jar) - طحينة

4 large

garlic cloves (minced) - فصوص ثوم

2 medium

lime - ليمون بلدي

1 can

chickpeas - حمص

2 tablespoon

pine nuts (toasted on a dry pan until golden) - صنوبر

1 handful

parsley - بقدونس

3 tablespoon

pomegranate seeds (can be replaced with cubed tomatoes) - بذور رمان

salt and pepper (to taste) - ملح و فلفل
Step by step
Use scissors to slice bread into small rectangles.
Place bread on a large baking tray.Season with sumac and drizzle with 2 tablespoons olive oil. Use your hands to mix gently.
Bake in 180C pre-heated oven until golden and crispy (about 10- 15 minutes).
Season sliced chicken with sumac, salt and pepper.
Heat remaining olive oil in a pan and cook chicken on all sides until cooked through. Squeeze one lime over cooked chicken slices and set aside.
In a bowl, mix yoghurt with tahini and garlic. Season with salt and pepper.
Drain chickpeas, rinse with fresh water, then season with juice of one lime, salt and pepper.
To serve, arrange crispy bread on a serving plate. Scatter chicken and chickpeas over the bread, leaving the edges clear.
Pour the yoghurt mixture over the chicken and chickpeas.
Garnish with toasted pine nuts, pomegranate seeds and chopped parsley.