Warm Spiced Pumpkin with White Chocolate Sauce
By shahdan • December 14, 2015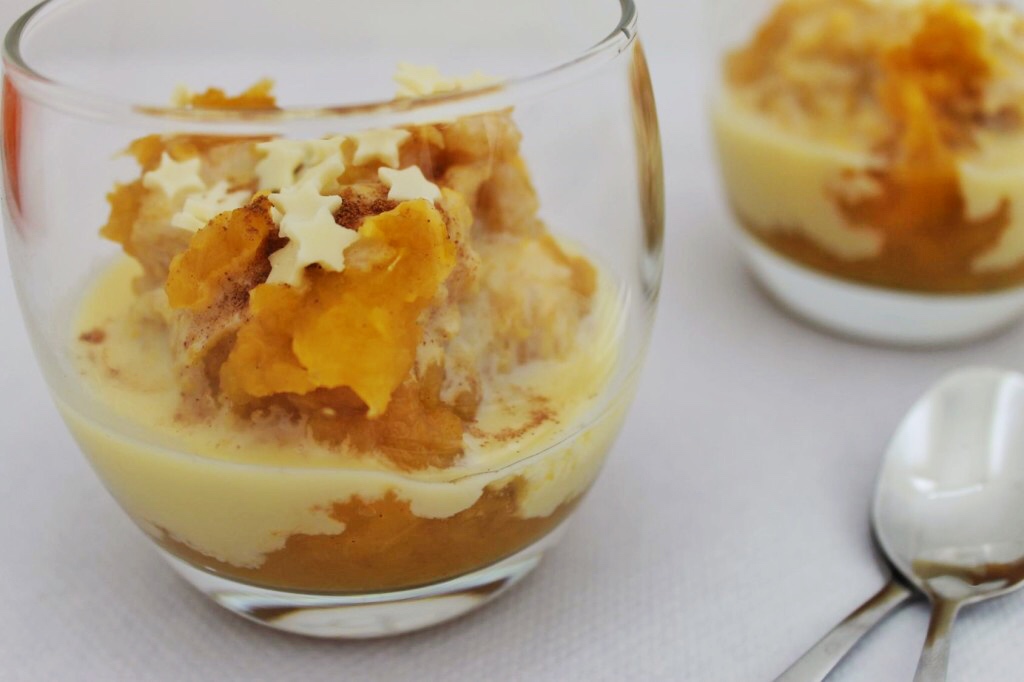 If you haven't tried this festive pumkin dessert, you are missing out! Warm pumpkin puree is spiced up with the season's spices, then covered in a creamy white chocolate sauce. The complexity and warmth in flavour is simply fabulous!
Also, try the traditional Sweet Pumpkin Béchamel.
Ingredients
1 medium

pumpkin (peeled & cubed) - اليقطين/ قرع

1 cup

water - ماء

1/4 cup

sugar (OR to taste) - سكر

1 teaspoon

cinnamon powder (OR to taste) - قرفة

1 pinch

nutmeg - جوزة الطيب

1 teaspoon

fresh ginger (peeled & grated fresh) - جنزبيل

200 gram

white chocolate (plus extra to decorate) - شوكولاتة بيضاء

100 ml

cooking cream - كريم الطهي
Step by step
Place the pumpkin cubes into a large pot and add one cup of water.
Place the pot over medium heat and leave the pumpkin cubes to cook until tender. Stir every now and then to make sure all cubes are cooking evenly.
When all cubes are tender and easily pureed, take the pot off heat and strain the pumpkin into a sieve. Using a wooden spoon, press to squeeze out the extra liquid.
Return the pumpkin puree to the pot and start to gradually add sugar. Mix the sugar into the pumpkin puree on a very low heat. Taste as you go until you achieve the sweetness you like, and all sugar is dissolved. Add the spices and mix. Turn off the heat and set aside.
To prepare the white chocolate sauce, break 150 grams white chocolate and place into a heat-proof bowl with the cream. Place the bowl over a pot with boiling water and stir occasionally until chocolate melts. Remove from heat when most of the chocolate has melted, then stir further off heat until you reach a smooth sauce.
Using a vegetable grater, peel little white chocolate shaves from the remaining chocolate bar. You may use ready sprinkles instead for decoration.
Spoon the pumpkin puree into cups, drizzle the warm white chocolate sauce on top, then garnish with chocolate shaves or sprinkles and a little extra cinnamon. Serve immediately.