Everyday Carrot & Pumpkin Soup
By yasmine • January 5, 2017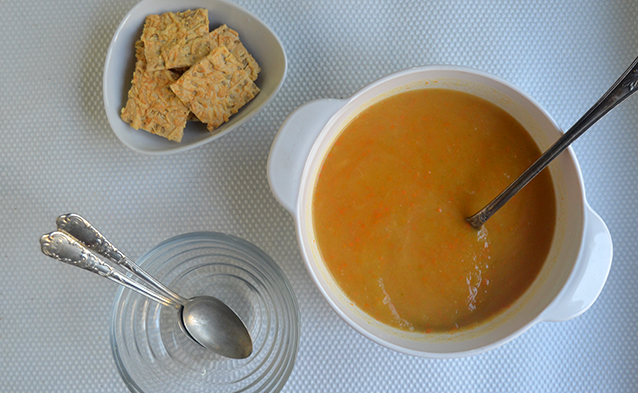 A yummy creamy and filling soup, this everyday easy-to-do carrot and pumpkin soup just ticks all the boxes. You will want to prepare batches of this soup and keep it in your fridge to warm up the whole family during the winter!
If you do not have chicken or vegetable broth, you may use water but add 2 bay leaves, 2 cardamom pods and extra salt and pepper.
Ingredients
1 kg

pumpkin (peeled & cut in cubes) - اليقطين/ قرع

2 medium

carrots (peeled & cut in cubes) - جزر

1 large

onion (minced) - بصلة

2-3

garlic cloves (minced) - فصوص ثوم

2 stem

celery (roughly chopped with greens) - كرفس افرنجي

5 cup

chicken broth/stock (OR veggie stock) - مرقة دجاج

salt and pepper - ملح و فلفل
Step by step
In a large pot, heat olive oil on medium heat and add minced onions. Sauté for 5 minutes before adding minced garlic and cooking for another 3 minutes.
Add cubed pumpkins, carrots and celery and stir. Add stock and let it come to a boil.
Let the mix simmer on low heat for 30 minutes or until pumpkins are tender. Put it off the heat.
Use a handheld mixer or transfer your soup to a food processor and pulse until it is completely creamed. You can serve it right away or keep in fridge for up to three days.