Light Chicken Fatta
By shahdan • May 12, 2019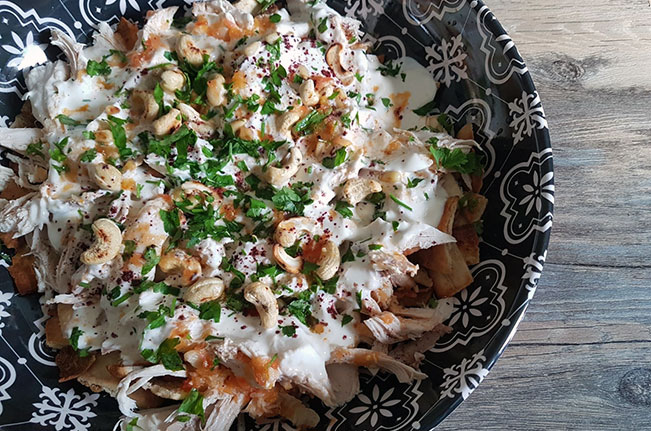 This Chicken Fatta is a great crowd pleaser, much lighter than regular Fatta recipes, and super easy to cook. All you need is a pre-cooked boiled chicken and broth. Check out our recipe for the Most Aromatic Chicken Stock.
This recipe is also useful in Ramadan, since you are often left with cooked chicken from all the broth and daily soup preparations.
You will need to double the recipe for a large gathering.
Ingredients
2

shamy bread large - خبز شامي

1.5 tablespoon

olive oil - زيت زيتون

2 medium

chicken breast (2 cooked breasts on bones from boiled chicken) - صدور دجاج

3 large

garlic cloves (minced) - فصوص ثوم

2 medium

tomatoes (grated) - طماطم

3 tablespoon

vinegar - خل

1/2 cup

chicken broth/stock - مرقة دجاج

salt and pepper (to taste) - ملح و فلفل

For the yoghurt topping:

400 gram

yoghurt - زبادي

2 tablespoon

tahini - طحينة

2 small

garlic - ثوم

To garnish:

1 tablespoon

parsley (finely chopped) - بقدونس

2 tablespoon

raw nuts (favourite nut roasted in oven or dry pan until golden and fragrant) - مكسرات
Step by step
Use scissors to slice bread into rectangles. Drizzle with 1 tablespoon olive oil and bake in 180C oven for about 10 minutes or until golden and crispy.
Debone and slice two boiled chicken breasts into bite-size pieces. Season generously with salt and pepper. Keep warm, preferably in some of its warm stock.
In a bowl, mix the yoghurt with tahini, minced garlic and salt. Set aside.
Heat remaining olive oil in a pan. Add minced garlic. Sauté garlic for a minute on low heat, then add the grated tomatoes.
Let the tomatoes cook with the garlic for a couple of minute then add the vinegar, followed by the stock. Season with salt and pepper.
To serve, place the bread on a serving plate. Arrange warm chicken on top. Use a spoon to drizzle hot tomato sauce over the chicken and bread then add the yoghurt.
Garnish with parsley and roasted nuts and serve immediately. You can also keep the assembled dish (without the yoghurt) warm for a couple of minutes in a pre-heated (but turned off) oven.