Tahini & Banana Chocolate Muffins
By shahdan • April 8, 2020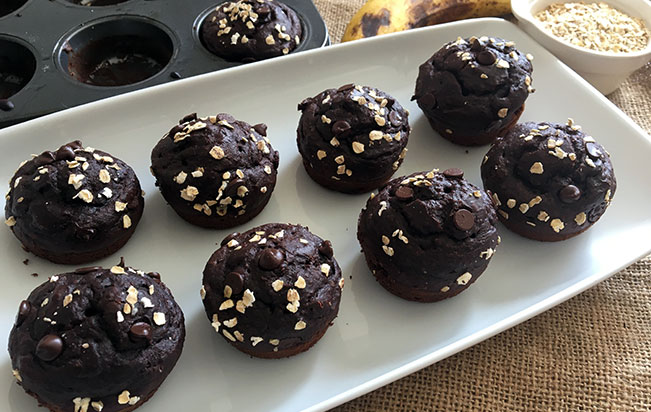 Perfect for our daily chocolate cravings, these (refined-sugar-free) Tahini & Banana Chocolate Muffins are not only moist and rich, but they also carry lots of clean & healthy ingredients inside them. They make the perfect snack for grown-ups and kids alike.
This recipe is super easy to prepare, because all the ingredients are simply mixed together in a blender, then poured into the prepared muffin tray, and baked for only 15 minutes.
Make sure to use a pure molasses brand that does not include any added refined sugar.
Ingredients
1/2 cup

oats (plus extra for garnish) - شوفان

1/2 cup

all purpose flour - دقيق أبيض

1 teaspoon

baking powder - باكينج باودر

3 tablespoon

cocoa powder (100% cocoa) - بودرة كاكاو

2

bananas (ripe and roughly chopped) - موز

1 medium

egg - بيضة

1 teaspoon

vanilla extract - خلاصة الفانيليا

1/4 cup

tahini - طحينة

1/4 cup

molasses - عسل أسود

1/4 cup

milk (60 ml) - لبن

3 tablespoon

chocolate chips (dark) - قطع شوكولاتة صغيرة
Step by step
Place oats in a blender/ food processor and pulse until they turn into powder.
Add flour, baking powder and cocoa. Give it another quick blend.
Next, add bananas and the wet ingredients: egg, vanilla, tahini, molasses and milk. Blend all ingredients into a smooth batter but don't over-blend.
Mix in 2 tablespoons chocolate chips to the batter with a spoon.
Line a muffin tray with muffin cases or brush with oil. 
Fill the muffin cases 3/4 full, and top each muffin with chocolate chips and sprinkle oats.
Bake in a 170C pre-heated oven for about 15 minutes or until risen and a skewer inserted in the middle comes out clean.
Leave the muffins to cool for a few minutes then transfer to cool completely on a wire rack or a plate. Serve or store in an airtight container for up to 3 days.