Thai Beef Salad
By yasmine • October 20, 2016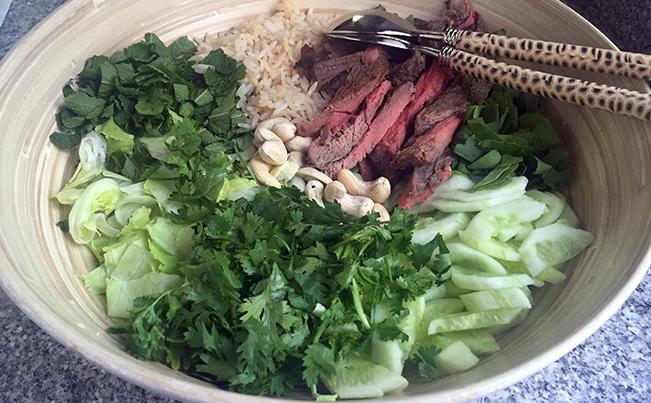 The beauty of this Thai Beef Salad is that you can transform leftover meat and rice to a completely new and delicious dish. You don't have to use cooked rice in this salad but it helps make it a full meal. The Asian dressing combined with the crunchy greens and protein allows for a delicious full experience.
The salad is an impressive item at a dinner invite and a perfect light meal for leftovers. You can prepare it in advance and add  dressing and keep it in the fridge. Leaving it with the dressing for a couple of hours actually enhances the taste.
Ingredients
150 gram

veal fillet (sliced) - فيليه بتلو

1 bunch

arugula (thinly sliced) - جرجير

1/2 medium

iceberg lettuce (thinly sliced) - كابوتشا

1/2 cup

coriander (chopped) - كزبرة

1/4 cup

mint (chopped) - نعناع

2

cucumber (peeled & sliced) - خيار

3/4 cup

wild rice (OR basmati rice - OPTIONAL) - الأرز البري

1 handful

cashew nuts (OR sesame - toasted) - الكاجو

DRESSING:

3 tablespoon

soy sauce - صوص الصويا

2 tablespoon

sesame oil (OR olive oil) - زيت السمسم

1 tablespoon

fish sauce - صوص السمك التايلاندي

1 large

garlic clove (minced) - فص ثوم

1 teaspoon

fresh ginger (shredded) - جنزبيل

1 pinch

black pepper - فلفل أسود

1 large

lime (deseeded & juiced) - ليمون بلدي
Step by step
Mix the dressing ingredients and place the dressing in the fridge.
Toast halved raw cashews in a pan for couple of minutes on low heat and set aside.
Mix lettuce, arugula and the rest of the greens then add the cucumbers and sprinkle the cooked rice if using any. Top with beef slices. Add dressing and leave it in the fridge until serving time. Sprinkle with toasted cashews and serve.