Chicken Fillets with Capers Sauce
By Nesreen Bahgat • January 3, 2016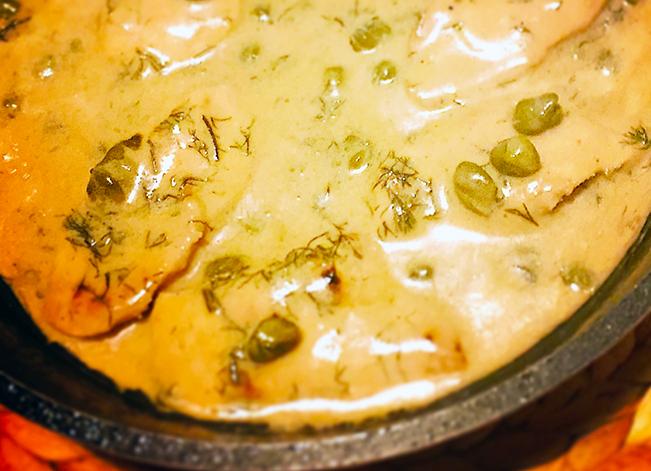 Enjoy these mouthwatering chicken breasts in a creamy capers sauce. One of our favorite recipes in the family, (which I got from my sister in law). It is one of the quickest recipes we prepare during busy days… & goes perfectly with Basmati rice.
This recipe is an entry to #MyBestDish cooking competition with Easy-Pan.com.
Recipe uploaded by Nesreen Bahgat.
Ingredients
3 tablespoon

butter - زبدة

1 tablespoon

oil (optional) - زيت

1 kg

chicken breast fillet - صدور فيليه الدجاج

2 tablespoon

garlic powder - بودرة ثوم

2 tablespoon

lemon juice - عصير ليمون

1 bunch

dill (OR less if you're not a fan - finely chopped) - شبت

1 cup

cooking cream - كريم الطهي

1 can

capers (OR to taste) - حب الكبر

salt and pepper - ملح و فلفل
Step by step
Clean the chicken breasts and dry it with a paper towel.
Marinate the chicken breasts with garlic powder, lemon juice, chopped dill, salt and pepper. Leave the chicken to marinate for at least one hour in the refrigerator.
In a hot pan, add the oil and 2 tablespoons butter. Grill the chicken in the hot pan on both sides until golden brown (2-3 minutes on each side.) Remove from the pan and set aside.
In the same pan, melt the rest of the butter. Then add the capers without the accompanying water.
As the capers cooks, scratch what was left from grilling the chicken using a wooden spoon and add the cooking cream. Bring to a simmer on low/medium heat.
Add the chicken breasts again to the sauce, cover and let it cook for another 2-3 minutes. Serve immediately next to Basmati rice. Bon appétit :)