Fig & Pomegranate Green Salad
By Salma El Hayawan • September 30, 2015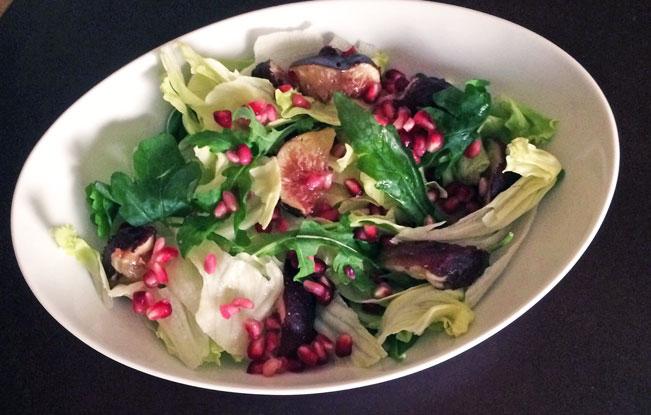 With fresh healthy greens, sweet figs and super nutritious pomegranates, this extremely easy to prepare salad, is not only yummy but also healthy and filling.
Ingredients
2 handful

arugula - جرجير

2 handful

iceberg lettuce - كابوتشا

6 slice

figs - تين

2 tablespoon

pomegranate seeds - بذور رمان

1 1/2 tablespoon

olive oil - زيت زيتون

1 1/4 tablespoon

balsamic vinegar - الخل البلسمي

1 1/4 teaspoon

honey - عسل
Step by step
To prepare the salad, simply mix the iceberg lettuce and the arugula in a salad bowl. Add sliced figs and pomegranates on top, and mix together.
For the dressing, mix the olive oil with the balsamic vinegar and honey. Add the dressing to the salad right before serving.