Butter & Garlic Roasted Carrots
By yasmine • March 26, 2016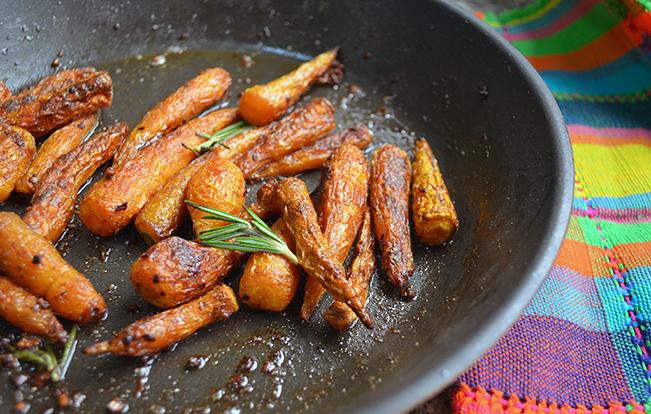 Baby carrots are around all Egyptian farmers' markets and big supermarkets these days, inspiring us to prepare some roasted carrots.
This is an easy and quick side dish to any protein you are serving. It is definitely also a crowd pleaser with its buttered sweetness and full flavor.
Ingredients
500 gram

baby carrots

3 tablespoon

butter - زبدة

4

garlic cloves (minced) - فصوص ثوم

salt and pepper - ملح و فلفل

1/2 teaspoon

paprika - بابريكا / فلفل أحمر

1 tablespoon

rosemary (chopped for garnish) - روزماري/ إكليل الجبل
Step by step
Wash the baby carrots very well, remove the hard head and keep it unpeeled. If you're using large carrots, cut them into 4 wedges.
Preheat oven to 180C.
Put a large pan on medium heat and melt the butter. Add carrots, minced garlic, salt, pepper and paprika and stir, making sure the butter coats the carrots. Give it 5 minutes then turn off the heat.
Put a lid on the pan, and place it in the middle of the preheated oven for 20-25 minutes. Sprinkle with rosemary for garnish and serve it warm next to your favorite protein dish.