Pesto Baked Mussels
By yasmine • December 15, 2015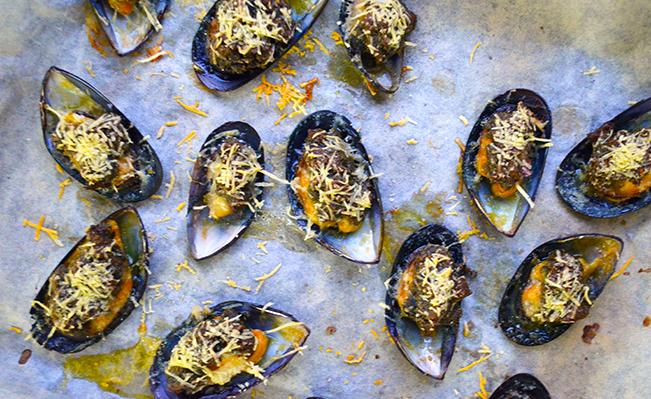 This is one of my favorite dishes at one of those pot mussels restaurants. It is so simple yet filling and makes an amazingly festive and elegant appetizer at home. You can make it using your homemade pesto sauce or a store bought option – both work fine. You can also replace the parmesan with shredded mozzarella if that's what you have.
You can make our simplest and favorite homemade fresh basil pesto sauce by mixing the following in a food processor –
1 bunch of basil leaves
3 garlic cloves
1 handful pine nuts
then add about 1/2 cup olive oil and salt and pepper. You can also add some parmesan before the oil.
Ingredients
1 kg

mussels (half-shell open mussels - sold frozen) - بلح البحر

200 gram

pesto sauce (about 1 cup) - صلصة الريحان

1 cup

parmesan cheese (about 100g - finely grated) - جبنة بارميزان

2 tablespoon

pine nuts (optional) - صنوبر
Step by step
Preheat oven to 180C and line a large oven tray with parchment paper.
Wash the frozen (or fresh) open mussels then place them in a bowl with hot boiling water for 10 minutes. This helps clean them and also start the cooking process.
Drain the muscles again and place them shell down on a tray lined with parchment paper.
With a teaspoon, put some pesto sauce on the meat of each mussel shell (about 1-1.5 teaspoon of pesto depending on mussel size).
Then sprinkle about a teaspoon of grated parmesan over each piece. End it with 3 to 4 pieces of raw pine nuts (they will roast in the oven).
Place the tray in the middle of the oven for 15 minutes or until cheese melts and pine nuts are toasted. Serve warm.