Roasted Beets & Carrot Soup
By Sherine Fahmy • August 4, 2015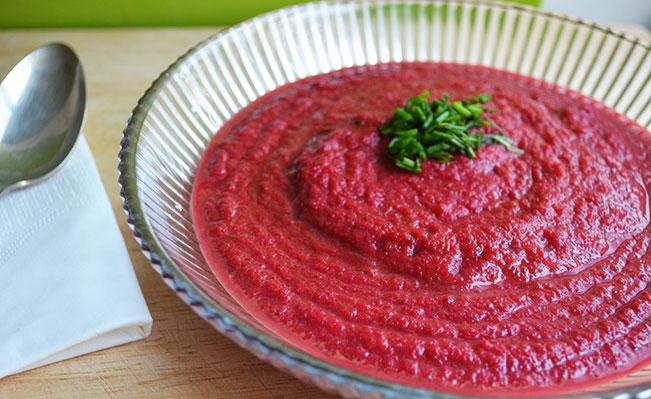 In season, summer root vegetables marry well together, creating a light yet fulfilling soup.
I used golden beets in my recipe  but it can be substituted for regular red beetroot. Your soup will be a delightfully pink color that you can surprise your guests with. Any of your favorite greens can be added on top for garnish. For example, arugula, spinach, you can even sauté the greens from the beets and add those on top.
Ingredients
2 cup

beetroot (cut in cubes) - بنجر

3 large

carrots (cut in cubes) - جزر

2 tablespoon

coconut oil (melted) - زيت جوز الهند

4 cup

chicken broth/stock - مرقة دجاج

1 tablespoon

ground cumin - كمون

1 teaspoon

cinnamon powder - قرفة

1 handful

arugula (OR baby spinach, thinly sliced for garnish) - جرجير
Step by step
Preheat oven to 190C. Line an oven pan with parchment paper and set aside.
In a mixing bowl, add root vegetables, coconut oil, salt and pepper and mix well. Spread on pan, leaving enough room between the vegetables and place in the oven for 40 minutes or until tender.
Once cooked through, transfer to a blender, and add cumin and cinnamon, as well as one ladle of chicken broth at a time while blending. Keep adding broth, until desired consistency.
Serve in your favorite soup bowl, drizzle with some olive oil, finishing salt, and a dash of arugula for garnish. Enjoy!