Quick Coconut Chicken Curry
By shahdan • April 3, 2017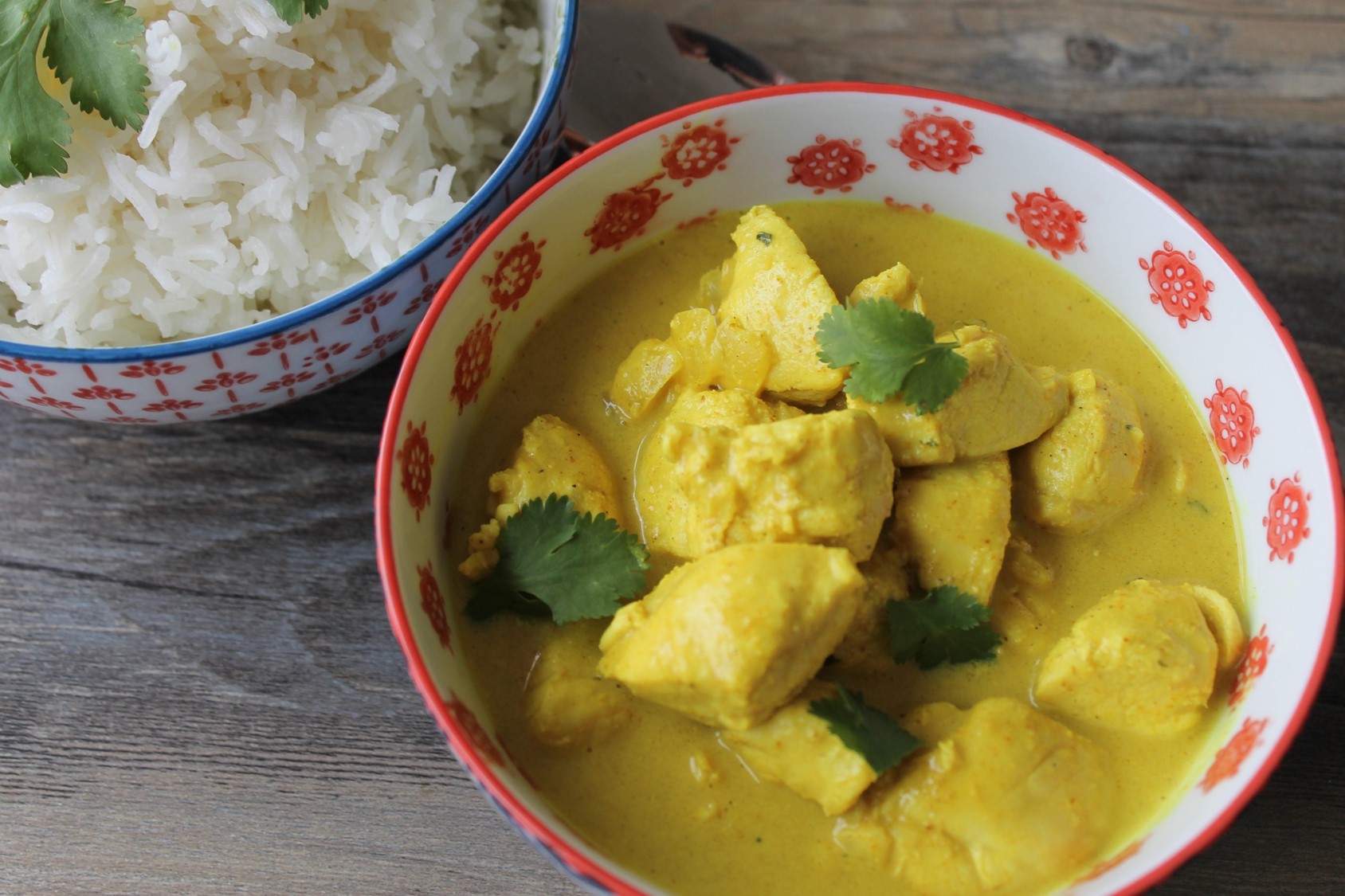 The Coconut Chicken Curry is a favourite in our house and my quick go-to dish on busy days. It cooks in no time and is absolutely delicious for both kids and grown-ups. I like to serve it with white Basmati Rice and steamed vegetables.
Coconut cream thickens the sauce without the need to add any starch, however if you can't find it, you can always use coconut milk, and thicken the sauce using about 2 teaspoons corn flour mixed in 3 tablespoons of cold water after adding the coconut milk.
I always keep fresh ginger in the freezer to grate in my Asian dishes, but if you don't have, you can always substitute fresh ginger with a generous pinch of ground ginger. But in all cases, make sure you use good quality curry from a recently opened jar and make sure its not too spicy for your kids!
Ingredients
1 kg

chicken breast fillet (cut in cubes) - صدور فيليه الدجاج

1 large

lime - ليمون بلدي

1/2 teaspoon

garlic powder - بودرة ثوم

2 tablespoon

olive oil - زيت زيتون

1 small

onion (diced) - بصلة

2 medium

garlic cloves (minced) - فصوص ثوم

1 teaspoon

fresh ginger (grated) - جنزبيل

1 tablespoon

curry - كاري

1 teaspoon

turmeric - كركم

3/4 cup

chicken broth/stock (or water) - مرقة دجاج

1 cup

coconut cream (250 ml) - كريمة جوز الهند

1/2 teaspoon

sugar - سكر

5 sprig

coriander (to garnish) - كزبرة

salt and pepper (to taste) - ملح و فلفل
Step by step
Marinate chicken cubes in salt, pepper, lime juice and garlic powder.
Heat 1 tablespoon olive oil in a large pan and cook chicken cubes on high heat until golden from outside but not cooked through. Don't overcrowd your pan, divide into 2 batches for best results.
Remove chicken and set aside. In the same pan, heat another tablespoon olive oil. Sauté onion on low/medium heat until soft. Add garlic, ginger, curry and turmeric and stir.
Return chicken and add stock or water and bring to a boil. Lower heat and let it simmer for about 10 minutes until chicken is cooked through and stock is reduced a little bit.
Add coconut cream and sugar, and let it simmer for a couple of minutes. Adjust salt and pepper especially if you are using water instead of stock.
Garnish with fresh coriander and serve hot with white basmati rice.