Oat Pancakes
By shahdan • April 19, 2021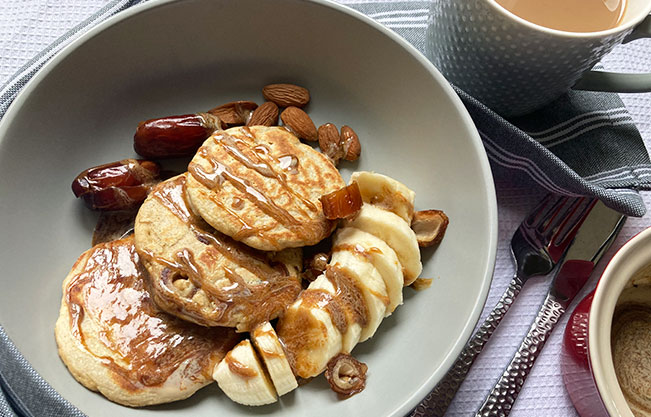 Yummy  Oat Pancakes served with dates and bananas, and generously drizzled with a tahini-molasses syrup… this is a healthy and nutritious way to start your day.
Ingredients
1.5 cup

oats - شوفان

1 teaspoon

baking powder - باكينج باودر

2 large

eggs - بيض

1/2 cup

milk (use milk of your choice) - لبن

1 pinch

salt - ملح

1/4 teaspoon

olive oil - زيت زيتون

2 tablespoon

molasses - عسل أسود

2 tablespoon

tahini - طحينة

bananas - موز

dried dates - تمر
Step by step
Place oats in a small food processor and grind into fine flour.
Add baking powder, eggs, milk, salt and blend into a thick pancake batter. For best results leave the batter to rest for 10 minutes.
Lightly brush a pan with olive oil using a kitchen tissue.
Add one tablespoon-full of batter per pancake. Cook on medium-high heat, and flip on the other side when edges are cooked. Repeat for the rest of the batter without adding any extra oil.
Lightly mix molasses with tahini.
Arrange pancakes on serving plate next to chopped dates and bananas. Drizzle with the tahini-molasses syrup and serve warm.