Warm Peach & Berries Fruit Crumble
By Shewekar Elgharably • June 18, 2015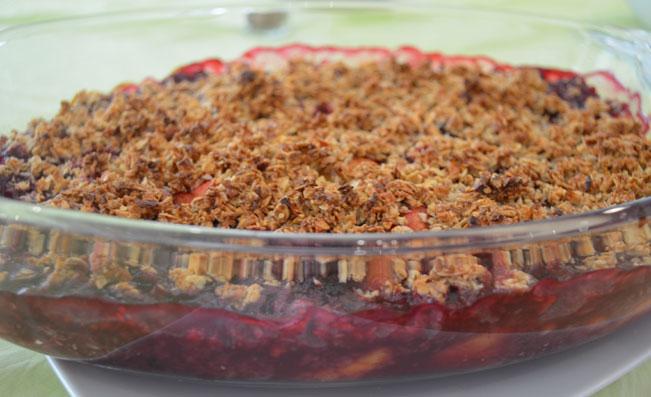 Starting from the smell while its in the oven, your senses know they're getting a treat! Its delicious, heart-warming and yet so light.
Ingredients
1½ cup

oats - شوفان

1 cup

almonds - لوز

1/3 cup

maple syrup - شراب القيقب

3 tablespoon

coconut oil - زيت جوز الهند

2 teaspoon

cinnamon powder - قرفة

10

peaches - خوخ

2 cup

berries - توت

1 tablespoon

maple syrup - شراب القيقب

1/2 teaspoon

cinnamon powder - قرفة
Step by step
Start by making the crumble layer. Simply place the almonds in a food processor & blend for a few minutes until a flour forms, then add this flour to a mixing bowl with the oats.
Place the coconut oil, maple syrup & cinnamon in a saucepan and gently heat until the coconut has melted & everything has mixed nicely.
Pour this over the oat/almond mixture & stir well until all dry ingredients are coated with the maple mix.
Next peel the peaches & remove the pits, cutting the remaining section into roughly 8 pieces.
Place the peaches in a sauce pan along with the berries & enough boiling water to just cover the bottom of the pan, probably about a cm's worth.
Then add the extra maple syrup plus the cinnamon before putting the lid on the pan and allowing it to simmer for about 5 minutes, until the fruit is nice and soft.
While this cooks pre-heat the oven to 180C.
Once the fruit is soft transfer it into the bottom of your baking dish and layer the topping above it. Then bake for 25-30 minutes, until the top is nicely browned.
Finally serve and enjoy!