Smoked Salmon Tagliatelle
By shahdan • November 20, 2019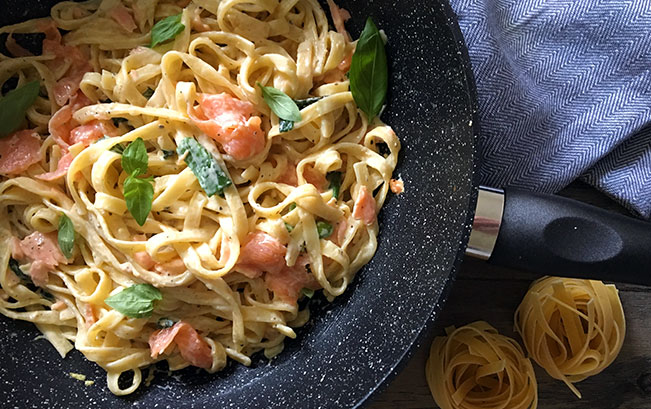 This Smoked Salmon Tagliatelle is the simplest way to the heart of a loved one. It impresses with its salmon flavor and creaminess, while it is quick and easy to prepare.
Ingredients
300 gram

tagliatelle (8 tagliatelle balls) - مكرونة تلياتلي

1/2 tablespoon

olive oil - زيت زيتون

2

garlic cloves (minced) - فصوص ثوم

1 cup

cooking cream - كريم الطهي

1/2 teaspoon

lemon zest - قشر الليمون

1/2

lime (juiced) - ليمون بلدي

120 gram

smoked salmon (sliced) - سمك السلمون المدخن

6 leaves

basil - ريحان

salt and pepper - ملح و فلفل
Step by step
Boil the pasta according to pack instructions.
To prepare the sauce, heat olive oil and sauté garlic for about 30 seconds. Add cooking cream.
Lower heat and season the cream with salt, pepper and lemon zest.
Add lime juice and sliced smoked salmon pieces.
Add the cooked pasta to the sauce and mix gently. Garnish with basil leaves and serve immediately.