Oven-Baked Herb Fish
By Shewekar Elgharably • June 10, 2015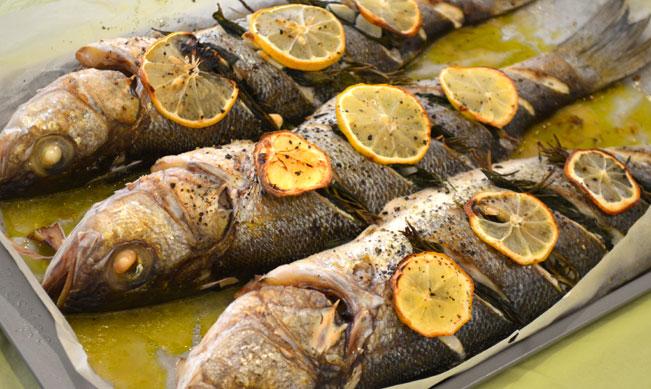 To add more fish to your weekly meals, try this hassle-free Oven-Baked Herb Fish recipe! In less than 30 minutes, you can enjoy this fish feast with your family and friends.
Ingredients
1

sea bass fish (about 1-1.2kg; scaled and gutted) - سمك الباسه

salt and pepper - ملح و فلفل

drizzle

extra virgin olive oil - زيت الزيتون بكر

4 sprig

rosemary - روزماري/ إكليل الجبل

handful

basil - ريحان

2

garlic clove (thinly sliced) - فص ثوم

2

lime (thinly sliced) - ليمون بلدي
Step by step
Heat oven to 200C.
Score the sea bass on both sides and rub all over with salt, pepper and olive oil.
Pick rosemary sprigs off the hard stems. Roll a large basil leaf tightly around each rosemary sprig. Insert into the slashes in the fish, along with the garlic slices.
Lay the sea bass on parchment paper-lined baking tray.
Stuff the cavity with the lime wedges and remaining rosemary. Bake for 15 to 20 minutes until cooked through.