Green Pea Salad with Mint & Feta
By shahdan • June 28, 2018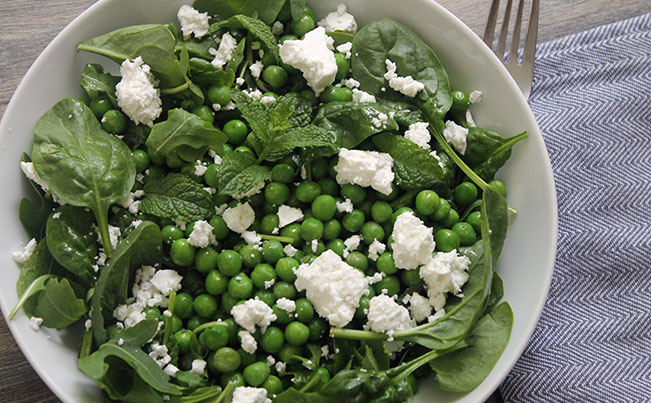 Using simple ingredients, you can create this special and good-for-you Green Pea Salad in no time. Fresh with the greens, fragrant with the mint and full of flavour, this salad makes a great vegetarian option on hot summer days. I love to serve it with grilled steak, the combination of  flavours are irresistible. However you choose to serve it, make sure you don't overcook the peas and to rinse it with ice-cold water to retain its bright green colour.
Ingredients
400 gram

peas (frozen) - بسلة

100 gram

mix of greens (spinach or rocket or dark green lettuce)

2 small

green onions (green parts only) - بصل أخضر

2 tablespoon

mint (roughly chopped) - نعناع

100 gram

feta cheese (good quality Greek Feta, crumbled) - جبنه فيتا

DRESSING:

4 tablespoon

extra virgin olive oil - زيت الزيتون بكر

2 tablespoon

lemon juice (plus zest of half a lemon) - عصير ليمون

1 teaspoon

honey - عسل

12 leaves

mint (finely chopped) - نعناع

salt and pepper (to taste) - ملح و فلفل
Step by step
Cover peas with water and cook until it reaches boiling point and take it off the heat, drain and rinse with ice cold water. Set aside.
Prepare the dressing by mixing all ingredients together in a jar, making sure mint leaves are very finely chopped, or blend together in a small blender. Pour dressing over peas, mix and adjust salt and pepper.
Arrange mixed greens on serving plate. Scatter the seasoned peas on top. Add sliced green onions and chopped mint leaves. Finish with crumbled Feta Cheese on top and serve.