One Pot Chicken, Mushroom & Broccoli
By yasmine • July 2, 2015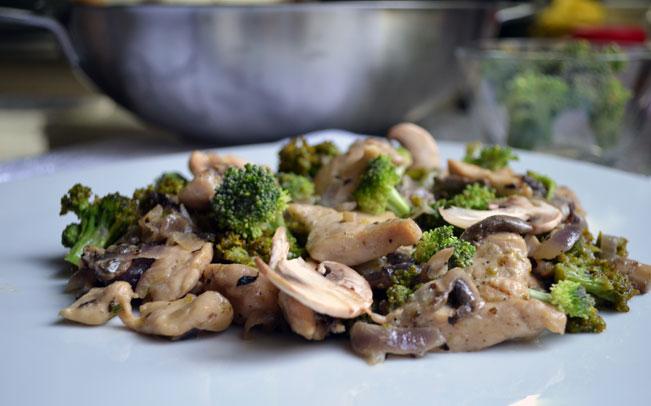 Such a simple recipe cooked all at once in one pot! No mess and it turns out delicious! It's suitable for a simple lunch or an extravagant gathering. You can replace the broccoli with cut asparagus to make it more elegant.
This recipe also works as a pasta sauce (add half cup cream) or sandwich filling (replace cream with cheese and salad in the sandwich).
Ingredients
500 gram

chicken breast (fillets - cut lengthwise into finger size) - صدور دجاج

1 large

red onion (quartered and thinly sliced) - بصلة حمراء

2

garlic clove (minced) - فص ثوم

250 gram

mushrooms (thinly sliced) - عش الغراب

250 gram

broccoli (cut into florets) - بروكلى

1 tablespoon

oregano (preferably fresh) - أوريجانو/ زعتر

1/2 cup

cooking cream - كريم الطهي
Step by step
On medium heat, put olive oil In a large pan, then add the onion followed by garlic.
As the onion starts changing colour add the broccoli florets and the cut chicken. Stir them to make sure they get covered by the fat and fry a bit in the pan.
Once the chicken exterior is cooked, add the mushrooms followed by the cream. Cover the pan and lower the heat to let all it all cook for another 10 minutes until broccoli is tender and chicken is cooked through.
Stir in the oregano at the end of the cooking process just before taking the pot off the heat.