Greek Chicken Souvlaki & Tzatziki
By shahdan • May 16, 2019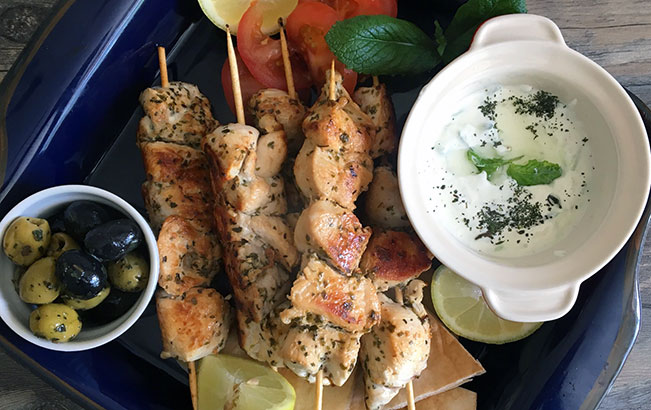 Chicken Souvlaki is the famous street food from Greece, where marinated chicken cubes are grilled on skewers and served with Tzatziki (yoghurt and cucumber dip) . Unlike our Middle Eastern Shish Tawook, made with chicken thighs, Souvlaki uses boneless chicken breasts. The marinade is also much simpler than the Middle Eastern Shish Tawook, yet zingy and extremely flavourful.
This is a clean & healthy meal that is so quick and easy to cook and enjoy at home. Serve it with Tzatziki, flat bread, olives, and a Greek Salad to enjoy a full Greek authentic meal in the comfort of your own home.
Ingredients
1 kg

chicken breast fillet (cut in cubes) - صدور فيليه الدجاج

1/4 cup

olive oil (plus an extra drizzle for the pan) - زيت زيتون

2 tablespoon

lemon juice - عصير ليمون

1 tablespoon

vinegar - خل

11/2 tablespoon

oregano (dry) - أوريجانو/ زعتر

3 large

garlic cloves (minced) - فصوص ثوم

salt and pepper - ملح و فلفل

For the Tzatziki - الزبادي بالخيار

300 gram

yoghurt (preferably Greek yoghurt) - زبادي

2 medium

cucumber - خيار

1 medium

garlic clove (grated) - فص ثوم

1 drizzle

olive oil - زيت زيتون

1/4 teaspoon

dried mint (optional) - نعناع مجفف/ ناشف

salt (to taste) - ملح
Step by step
Mix all ingredient together and pour over chicken. Cover and leave to marinate in the fridge for at least one hour.
Soak wooden skewers (if using any) in water for 30 minutes (to prevent them from burning while cooking).
Thread the chicken pieces on the skewers.
Heat a pan/griddle pan. Add a drizzle olive oil and arrange chicken when the pan is very hot to get a nice golden colour on the chicken. Don't rush to turn them, give them a good 4-5 minutes before you start turning them to the other sides. Lower heat to medium half way through if needed.
Make sure the chicken is cooked through by cutting through one of the thickest pieces to make sure its not pink inside.
To prepare the Tzatziki, grate the cucumber and sprinkle it with some salt. Place it in a sieve and squeeze out its juices by pressing on the cucumber with the back of a spoon. Discard the cucumber water.
In a bowl mix yoghurt with grated cucumber, garlic, mint, salt, and a drizzle of olive oil. Transfer to serving bowl
Serve chicken on a large platter with a bowl of Tzatziki, flat bread, salad and olives.