Roasted Sweet Potato Wedges
By shahdan • March 23, 2017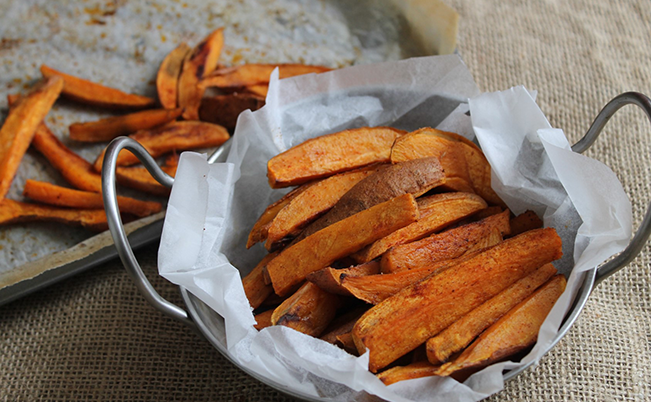 The house will smell divine while these filling, super healthy and extremely delicious Sweet Potato Wedges are roasting! These are a great side dish to any protein or as a filling snack for kids and grownups alike.
Ingredients
4 medium

sweet potato - بطاطا

1 drizzle

olive oil - زيت زيتون

generous

sea salt (to taste) - ملح البحر

generous

paprika (to taste) - بابريكا / فلفل أحمر

1/2 teaspoon

cinnamon powder - قرفة
Step by step
Preheat oven to 200C. Wash the sweet potatoes and slice (unpeeled) into long wedges.
Line a roasting tray with parchment paper and spread the sweet potato wedges. Drizzle with olive oil and use your hands to toss the sweet potato in the oil. Rearrange as one layer on the roasting tray.
Sprinkle with sea salt and paprika, and little cinnamon.
Bake for 25-35 minutes, until soft from inside and a little crispy from the outside. Make sure to flip the sweet potatoes half-way through so they cook evenly on all sides. Serve warm or at room temperature.