Greek Salad
By shahdan • May 18, 2019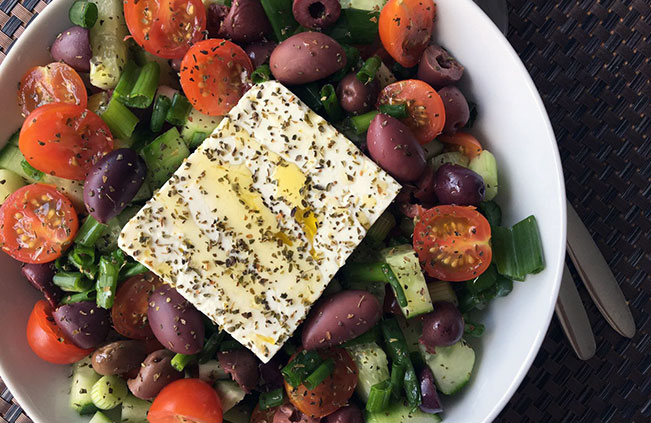 Greek Salad is easy to prepare, and full of delicious flavours. It is a perfect salad option in the summer when the weather is too hot for good quality fresh lettuce. Serve it with Greek Chicken Souvlaki & flat bread to enjoy a full authentic Greek meal.
Ingredients
4 medium

cucumber - خيار

3 medium

tomato - طماطم

1/2 small

red onion - بصلة حمراء

1 handful

black olives (good quality kalamata olives) - زيتون أسود

1 slice

feta cheese - جبنه فيتا

DRESSING:

1/4 cup

extra virgin olive oil - زيت الزيتون بكر

2 small

lemon juice - عصير ليمون

1/2 teaspoon

oregano (dried) - أوريجانو/ زعتر

1 tablespoon

vinegar - خل

1/4 teaspoon

Dijon mustard (optional) - مسطردة ديجون

salt and pepper (to taste) - ملح و فلفل
Step by step
Mix dressing ingredients in a small jar and set aside.
Slice cucumbers, tomatoes and red onions in a bowl. Drizzle some of the dressing on top and mix gently.
Scatter olives over the salad and crumble the cheese or leave as a slice on top. Spoon more of the dressing on top and serve.