Shami Eish-Saraya
By Nelly Abuarqub • December 27, 2015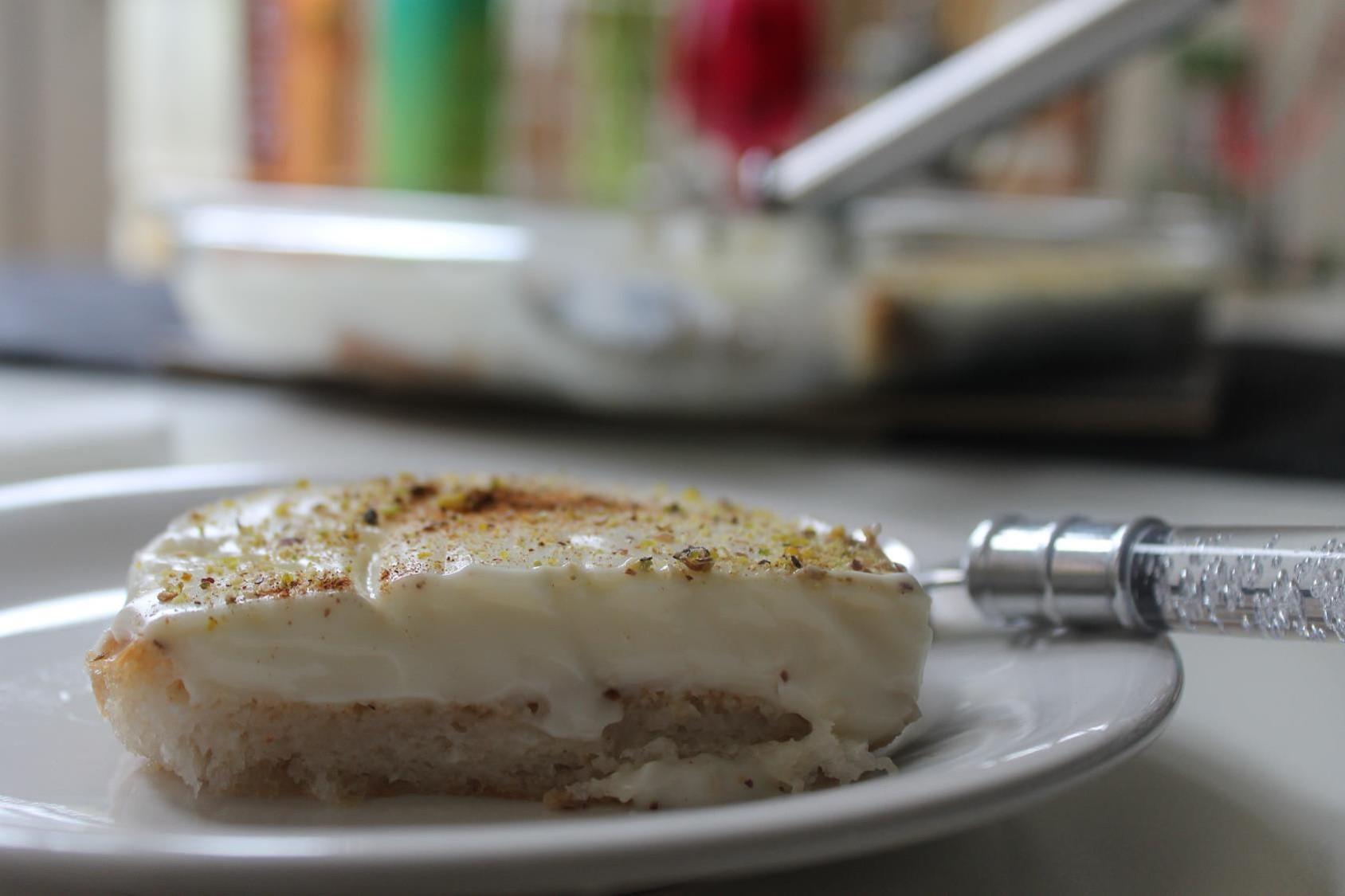 A sweet and juicy bread base is covered with a thick layer of creamy milk pudding, flavoured with traditional Middle Eastern aromas and topped with luscious green pistachios. The textures and flavours in this dessert will leave you drooling! A must-try!
This dessert is from Nelly Abuarqub's kitchen. After serving her very special traditional Palestinian Maklouba (find the recipe here), this is the dessert that she surprised us with. We could not resist asking for the recipe. It is very easy to prepare and is an absolutely delicious dessert on your table.
For best results, prepare it one day in advance! (Which makes it a great option for big dinner parties, when you need to focus on lots of other dishes on the day!) You will need a large Pyrex, 35 x25 cm.
Ingredients
1 liter

milk (4 cups) - لبن

4 tablespoon

sugar - سكر

4 tablespoon

corn flour - نشا

2 small

mastic / mesteka (crushed) - مستكة

2 tablespoon

rose water - ماء الورد

2 tablespoon

Orange Blossom Water - ماء الزهر

170 gram

cream (recommended: can of Puck cream) - قشطة

10-12 slice

toast (edges removed) - توست

1 handful

pistachios (to garnish) - فستق

1 teaspoon

cinnamon powder (optional) - قرفة

SYRUP

2 cup

sugar - سكر

1 cup

water - ماء
Step by step
Toast white toast slices (after you trim the edges) on both sides until golden in an oven. Then arrange it in the pyrex, making sure all base is completely covered with one layer of toast.
To prepare the syrup, heat sugar and water on medium heat. When it boils, lower the heat and leave to simmer for about 15 minutes until slightly thickened. Stir occasionally to make sure the sugar does not stick on the sides of the pot and burn. Turn off the heat and set aside for 5 minutes so it's not too hot to handle.
Using a ladle, carefully spoon the warm syrup over the toast, making sure all pieces absorb the syrup evenly. Set aside.
In a pot, whisk the corn flour with the cold milk making sure the corn flour dissolves. Stir in sugar and mastic (off the heat).
Place the pot on low/medium heat and stir continuously (so it doesn't stick in the bottom of pot and burn) until the milk thickens. You need the consistency of milk pudding (mehallabeyya). This should take about 15 minutes.
Turn off the heat then add rose water, orange blossom water, and cream. Stir until the cream dissolves, then pour it over the toast in the pyrex (making sure it is evenly distributed).
Leave to cool, then put the pyrex in the fridge for a couple of hours. For best results, leave it in the fridge overnight.
Sprinkle with crushed pistachios and a little cinnamon (optional) and serve cold.