Succulent Asian Surf & Turf for Two
By shahdan • February 9, 2016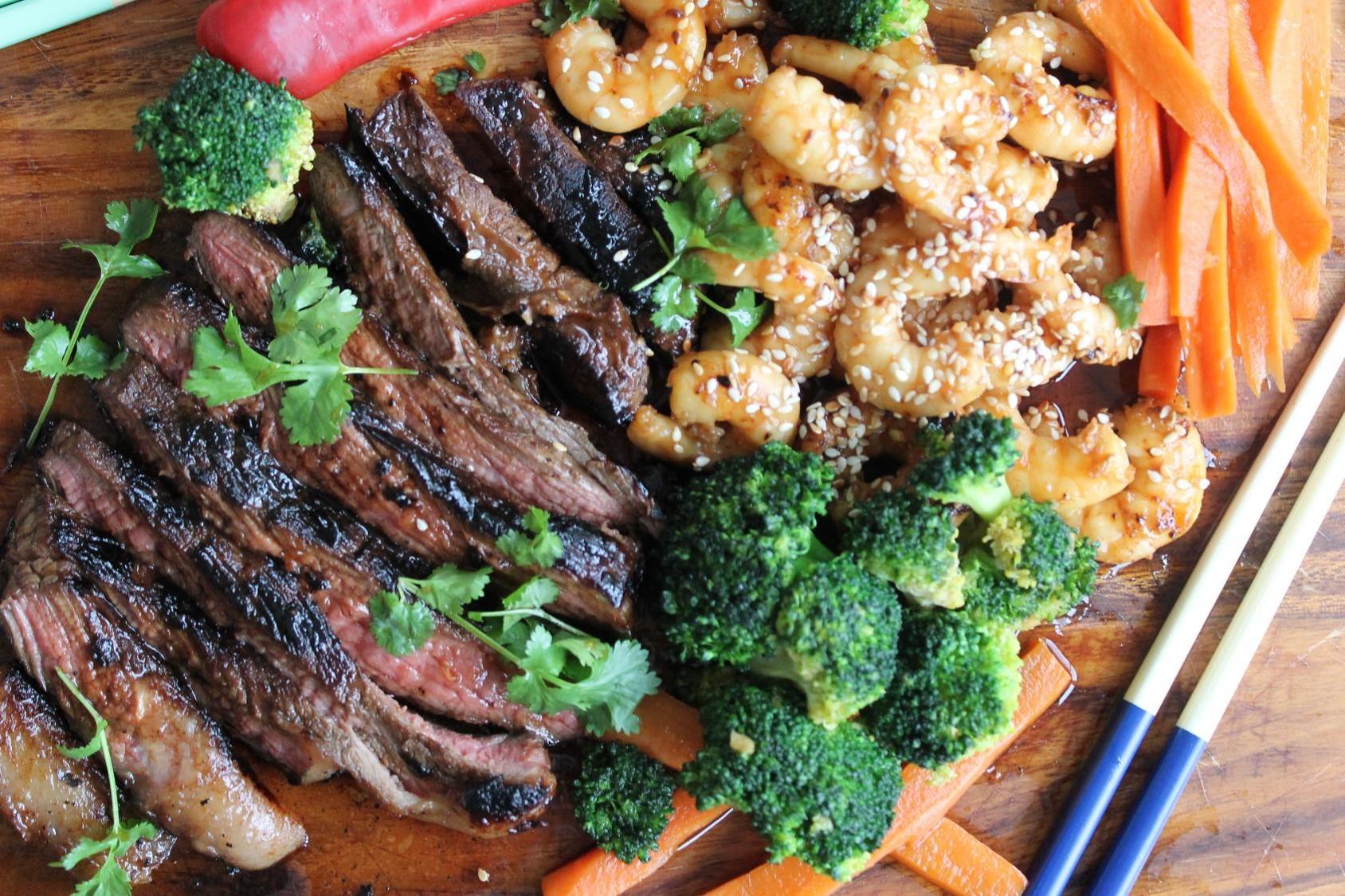 One marinade for a succulent full flavoured steak, mouth-watering sweet and tangy sesame shrimps, and luscious aromatic veggies… This is the ultimate platter for 2 – or prepare it to impress a crowd!
Prepare everything in advance and leave to marinate in the fridge. All you will need later is 15 minutes to cook it through before serving.
Best served with Basmati rice and Crunchy Asian Salad.
Note that recipe total time does not include marination time.
Ingredients
1 piece

steak (250 gram rump steak) - شريحة لحم

250 gram

shrimp (peeled and preferably tail-on) - جمبري

1 large

carrot (cut into thin strips) - جزرة

1 cup

broccoli (florets) - بروكلى

1 tablespoon

sesame seeds - بذور السمسم

3 tablespoon

vegetable oil - زيت نباتي

1/2 small

lime - ليمون بلدي

1 small

red chili pepper - فلفل أحمر حار

5 sprig

coriander - كزبرة

Marinade:

1/2 cup

light soy sauce (125 ml) - صوص الصويا الخفيف

4 tablespoon

honey - عسل

1 tablespoon

sesame oil - زيت السمسم

4 large

garlic cloves (minced) - فصوص ثوم

1 tablespoon

fresh ginger (grated) - جنزبيل
Step by step
Combine all marinade ingredients in a small bowl and mix very well.
Place the steak in a plastic bag and add a couple of tablespoons from the marinade, or enough until the meat is well-covered. Seal and place in the fridge for a minimum of one hour.
In two other separate bags, do the same with shrimps and veggies. Make sure to leave behind 2-3 tablespoons of the marinade in the bowl (untouched by any raw meat or shrimps).
Place sesame seeds in a dry pan over medium heat and shake until the seeds are golden brown. Remove and set aside until serving time.
Fifteen minutes before serving, heat a frying pan with 1 tablespoon oil. Place the steak in the hot pan and discard the extra marinade in the bag. Cook for 2 minutes on each side for rare, 3.5 minutes for medium, and 5 minutes on each side for well done. Place the steak on the serving board/ platter, cover it and allow it to rest.
In a clean pan, add 1 tablespoon oil and stir fry the veggies over medium heat for 4-6 minutes (without the extra marinade), until slightly tender. Remove from the pan and set aside.
Wipe clean the pan, add 1 tablespoon oil and stir-fry the shrimps for a few minutes until just pink and cooked through - about 5 minutes. Squeeze half a lime over the shrimps.
Cut the steak into large slices and sprinkle with chopped red chili pepper. Arrange the shrimps next to the steak and sprinkle with toasted sesame seeds. Add the veggies to the platter and scatter the fresh coriander leaves.
Finally, spoon the 2-3 tablespoons reserved marinade over the steak, shrimps and veggies and serve immediately.