Scrumptious Homemade Pretzels
By Taymour Farid • October 29, 2015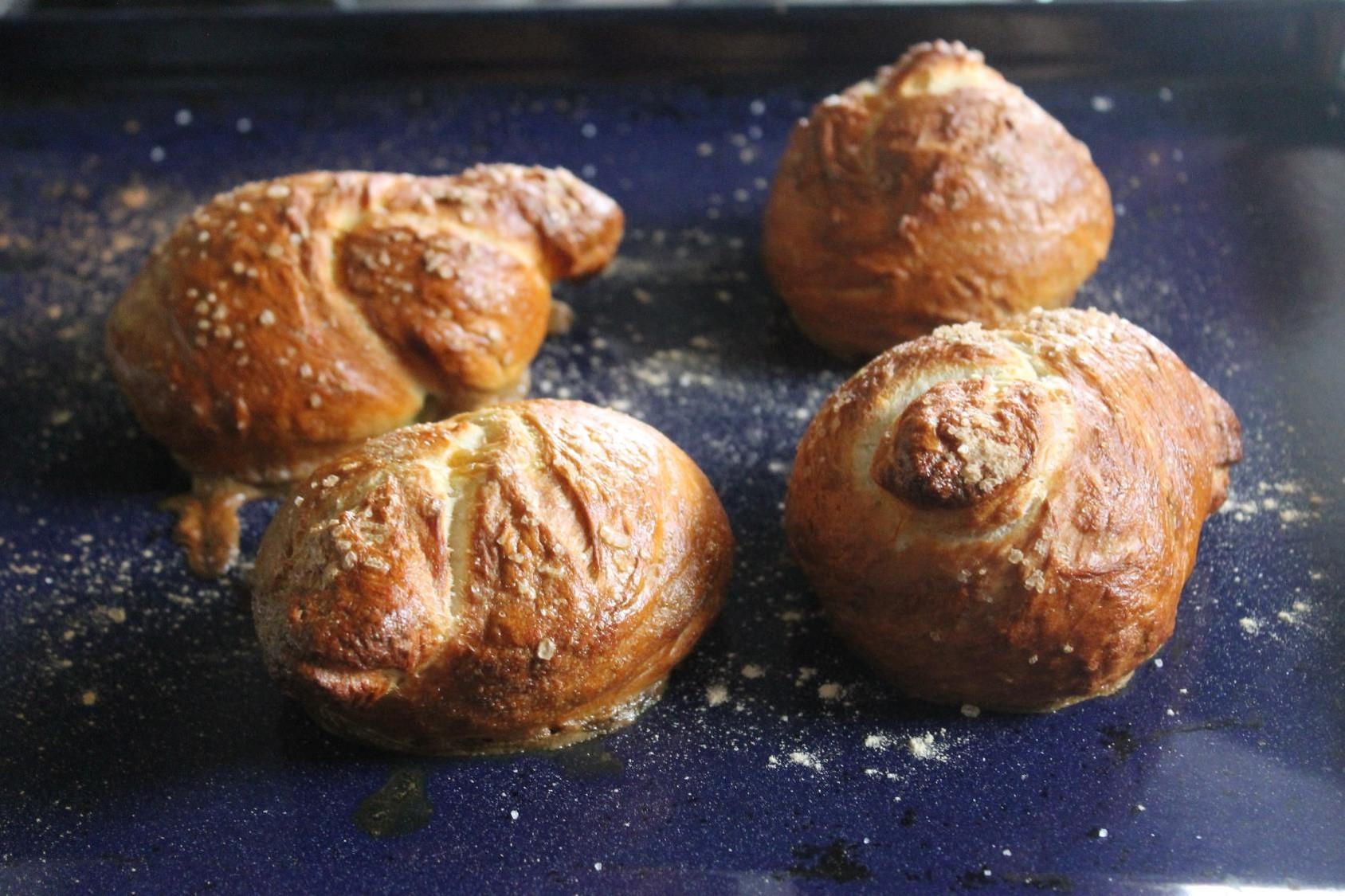 Did you know that yummy pretzels can be baked from your leftover pizza dough? Yes – this is for real – the most delicious salty and chewy pretzels!
Recipe shared by the Farids, from their article with CairoCooking: Pizza & Pretzels: One Day, One Dough and Pure Indulgence. The leftover pizza dough was used to bake these superb pretzels. Find the pizza recipe here.
Ingredients
4 cup

flour - دقيق

2 tablespoon

dry yeast - خميرة جافة

350 ml

water (1 1/2 cups) - ماء

2 teaspoon

sugar - سكر

2 teaspoon

sea salt (plus extra to sprinkle on top before baking) - ملح البحر

3-4 cup

boiling water (enough to fill a small pot) - ماء ساخن

2 tablespoon

baking soda - بيكربونات الصودا

1 medium

egg - بيضة
Step by step
Combine pizza flour, salt, yeast, and sugar in a bowl. Add water and mix with your hands until the dough comes together.
Let the dough rest for 10 minutes then work the dough again for another 10 minutes. The dough should not be sticky and you may need to add additional flour. Divide the dough into 2 balls and transfer to sealed zipper bags in the fridge for 8- 72 hours.
Dust your work surface with flour. Roll out the dough and stretch it all around then divide each dough into 3 equal sized dough balls. Grease 6 small bowls with oil, add one dough ball in each bowl, lightly grease it with oil and cover with cling film (plastic wrap).
Allow to rise for 2 hours in room temperature.
Dust a work surface with flour and work the dough into your preferred pretzel shape. Each ball will make 2 large pretzels. You can roll it into a long baton then make a simple knot.
Add 2 tsps. baking soda in a pot with boiling water.
Using a slotted spoon slowly drop the pretzel dough one by one in the boiling water for 30 seconds each.
Gently remove your pretzel dough and put on a tray lined with parchment paper. Brush the pretzels with beaten egg and sprinkle with kosher salt.
Bake in a 250 c oven for 10- 15 minutes until it's puffed and nicely browned.