Easy Vegetable Stir-Fry
By shahdan • September 17, 2018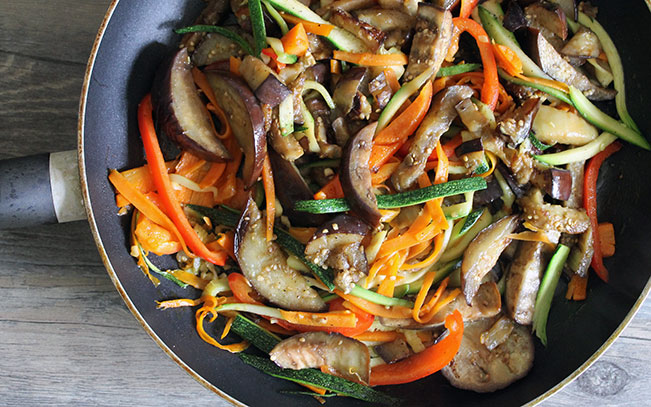 If you are bored of daily vegetable dishes, this easy vegetable stir fry is what you are looking for. It is versatile and can be served next to main dishes from any cuisines (Egyptian, Italian, Indian). This is the basic recipe using only garlic, salt, pepper and a generous squeeze of lime juice to bind all flavours together.
You can also play around with the recipe and use your favourite herbs and spices, like oregano and thyme, or branded Italian seasoning. You can also finish it off with crumbled Feta cheese, toasted nuts, or a drizzle of pomegranate molasses on top.
Or just stick to that incredibly delicious basic recipe.
Ingredients
2 large

eggplant (sliced into half circles) - باذنجان رومي

2 large

carrots (julienne) - جزر

1 large

red bell pepper (julienne) - فلفل رومي احمر

4 small

zucchini (julienne) - كوسة

3 tablespoon

olive oil - زيت زيتون

2 medium

garlic cloves (minced) - فصوص ثوم

salt and pepper - ملح و فلفل

2

lime (juiced) - ليمون بلدي
Step by step
Slice unpeeled eggplants into medium-thick circles, then into long thin strips.
In a large pan, heat 2 tablespoons olive oil and add the eggplant strips. Fry on high heat for about 10 minutes, turning them every few minutes until they are soft and golden brown on all sides. Make sure not to overcrowd the pan and cook in batches if needed. Remove from pan and set aside
Slice zucchini, carrots, and bell pepper into long thin slices (julienne).
Heat remaining oil in the same pan and stir-fry the vegetables on high heat for a couple of minutes. When slightly soft, add minced garlic. Return cooked eggplants and stir together for another 2 minutes. Season with salt and pepper and turn off heat.
Squeeze lime juice and serve next to your favourite protein. Store leftovers in an airtight container in the fridge.