Savoury Qatayef with Sun-Dried Tomatoes & Cheese
By yasmine • June 14, 2016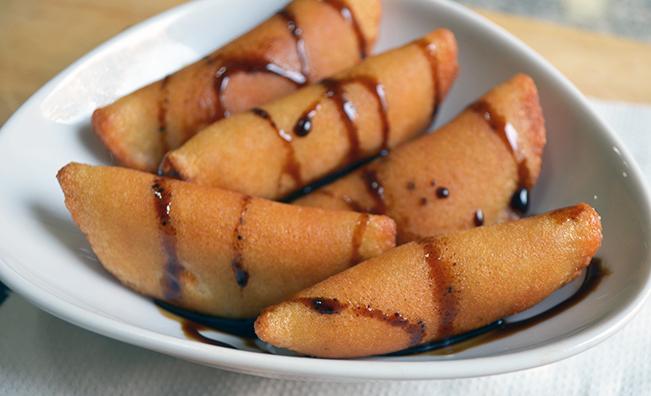 Sun-dried tomatoes and cheese are a match made in heaven! Stuffing our traditional Qatayef with this mix provides a whole new take on a savory side dish we usually have with our soup in Ramadan.
If you like the white cheese & tomato dip, you should enjoy this stuffing as well. With a drizzle of pomegranate molasses while it is still hot, takes these Qatayef to a new level.
Ingredients
1 kg

Qatayef (medium to large sized) - قطايف

100 gram

white cheese unsalted - جبنة بيضاء ملح خفيف

50 gram

baramili white cheese - جبنة براميلي

sun-dried tomatoes (sliced) - طماطم مجففة

2 cup

sunflower oil - زيت عباد الشمس

1 tablespoon

oregano (optional) - أوريجانو/ زعتر

drizzle

pomegranate molasses (optional) - دبس رمان
Step by step
In a blender, mix the two cheese and oregano (if using any) until smooth. If it is a bit crumbly, add a tablespoon of olive oil to smoothen. Add sliced sun-dried tomatoes and pulse a couple of times so you keep some complete tomato bits in the stuffing,
Using a small teaspoon, stuff the Qatayef with enough cheese making sure it is firmly binded and no cheese will ooze out in the oil. Once your close the Qatayef firmly you can freeze them for a month or proceed to frying and serving them.
Heat oil in a medium frying pan or pot. It should take about 5 minutes on medium heat. Fry the first batch of Qatayef making sure you don't overcram the oil. Each batch should take about 5 minutes to be crispy from the outside and soft from the inside.
Remove the Qatayef from the oil and place it on a plate covered with kitchen paper to soak the excess oil. Serve it warm with a drizzle of pomegranate molasses for an extra kick.