Easy Roasted Tomato & Garlic Soup
By yasmine • May 7, 2018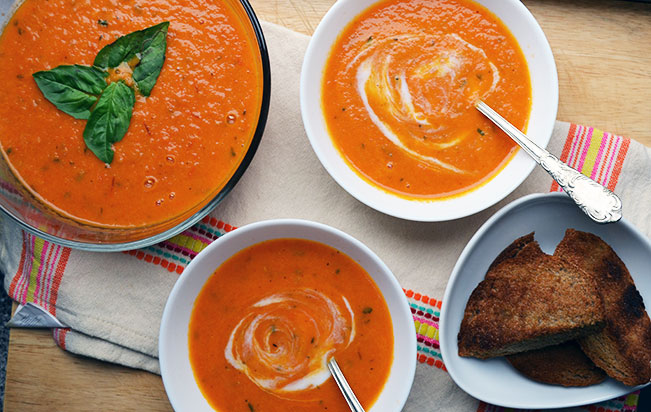 This is the easiest recipe to achieve a yummy Roasted Tomato & Garlic Soup. With simple ingredients and little hands-on cooking time, this recipe will probably go on your favourite recipe list.
The basil & thyme add a herb quality to the soup, but are not essential. The soup is also very yummy with or without cooking cream. So follow your preference, and this soup will always deliver love on the table.
Ingredients
1 kg

tomatoes (cored & halved) - طماطم

100 gram

cherry tomatoes - طماطم تشيري

8

garlic cloves (with peel) - فصوص ثوم

salt and pepper - ملح و فلفل

1/2 teaspoon

cinnamon powder - قرفة

3 tablespoon

olive oil (divided) - زيت زيتون

1 large

onion (diced) - بصلة

2 cup

chicken broth/stock (OR water with bay leaf, cardamom & extra salt) - مرقة دجاج

1 teaspoon

thyme (optional) - زعتر

6-8 leaves

basil (finely chopped - optional) - ريحان

1 drizzle

cooking cream (optional) - كريم الطهي
Step by step
Preheat oven to 180C.
Core and cut tomatoes in half and place them on a shallow oven tray. Place garlic cloves with peel next to the tomatoes as well as the cherry tomatoes. Drizzle about 2 tablespoons olive oil, and sprinkle cinnamon, salt & pepper. Use your hands to distribute the oil and spices around the tomatoes. Make sure they are all placed cut side down. Place tray in the middle of the oven for 40 minutes, turning the tomatoes in the last 10 minutes and shaking the tray to finish roasting.
When you take the oven tray out, make sure to peel the garlic cloves.
In a large soup pot, heat olive oil and fry the diced onions until golden (about 7 minutes). Stir in the roasted tomatoes and garlic.
Add chicken broth and hot water and let it all simmer on medium/low heat for 15 minutes. Liquid should evaporate a bit. Add basil and thyme, if using any, in the last minute or so.
Use a handheld mixer or a food processor to blend the soup. You can add some cream to garnish with basil just before serving the soup hot with some crusted bread.