Halloumi, Tomato & Arugula Slicers
By yasmine • July 18, 2015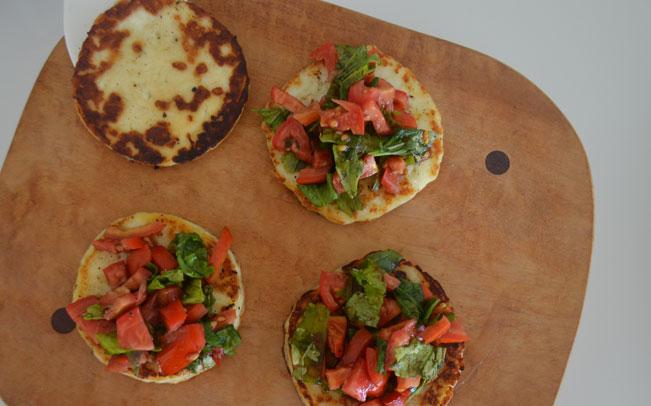 Such a simple and quick appetiser that looks and tastes good guaranteed!
For a more luxurious serving, you can replace the tomato arugula salad topping with some boiled and cut asparagus seasoned with black pepper and olive oil.
Ingredients
500 gram

halloumi cheese (sliced horizontal) - جبنه حالوم

2

tomatoes (chopped) - طماطم

1 handful

arugula (thinly sliced) - جرجير

1 tablespoon

olive oil (for grilling) - زيت زيتون

AND 1 tablespoon

olive oil (for dressing) - زيت زيتون

black pepper - فلفل أسود

2 tablespoon

balsamic vinegar - الخل البلسمي

1 teaspoon

oregano (optional) - أوريجانو/ زعتر
Step by step
Heat one tablespoon olive oil in a large pan and grill the sliced Halloumi on both sides until golden. Sprinkle with fresh black pepper while grilling.
In the meantime, mix the cubed tomatoes with the arugula and top it with the rest of the olive oil and balsamic vinegar.
Lay the grilled Halloumi slices on the serving plate then cover each slice with a couple of tablespoons from the tomato arugula salad. You may sprinkle some oregano on top before serving.