Easy Creamy Mushroom Chicken
By shahdan • May 4, 2018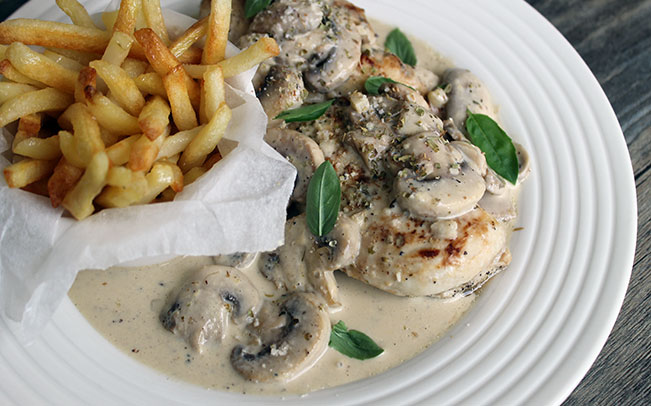 This Creamy Mushroom Chicken dish is easy to prepare and will always be a winner on your table. I like to serve it with white rice, steamed veggies and French fries (yes, not the lightest meal but the sauce tastes divine with the crispy fries). This meal is quick and fun – everyone enjoys.
Ingredients
4 large

chicken breast fillet - صدور فيليه الدجاج

1/2 teaspoon

garlic powder - بودرة ثوم

2 tablespoon

olive oil - زيت زيتون

300 gram

mushrooms (wiped clean & sliced) - عش الغراب

2 medium

garlic cloves (minced) - فصوص ثوم

1/2 teaspoon

oregano - أوريجانو/ زعتر

4 tablespoon

water - ماء

250 ml

cooking cream (1 cup) - كريم الطهي

1 teaspoon

Dijon mustard - مسطردة ديجون

2 teaspoon

parmesan cheese - جبنة بارميزان

1 handful

basil OR parsley - ريحان

salt and pepper (to taste) - ملح و فلفل
Step by step
Preheat oven to 180C.
Season chicken with garlic powder, salt & pepper. Heat 1 tablespoon oil and cook chicken on both sides until golden but not cooked through.
Transfer to oven-dish and bake for about 15-20 minutes or until thickest part of the chicken is cooked through.
In the meantime, heat remaining oil in the same pan and add sliced mushrooms. Season with salt and pepper and cook on high heat while stirring occasionally until golden. Lower heat and add minced garlic and oregano. Cook for another minute.
Add water and use a wooden spoon to deglaze the pan (release all the flavourful brown bits stuck in the pan.)
Add cream, mustard, and let it all simmer on low heat (don't let the cream boil). Return the cooked chicken fillets. Add cheese, adjust salt and pepper if needed. Garnish with fresh fragrant basil leaves and serve immediately.