Creamy North Indian Fish Curry
By Shewekar Elgharably • May 19, 2015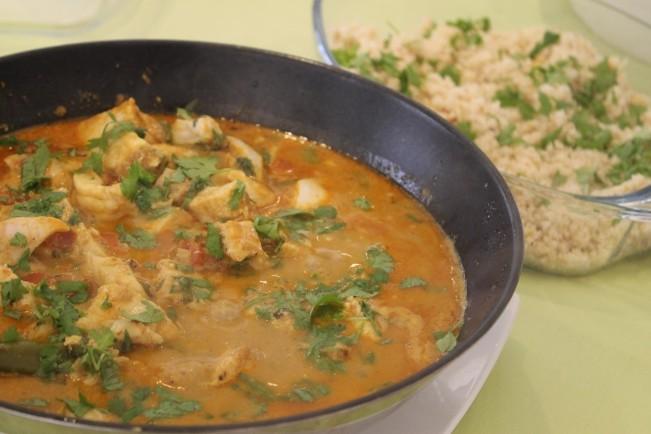 Enjoy the exotic spices in this wonderful fish curry dish brought to you straight from India. You will not believe it does not have any cream. The creamy consistency is achieved through coconut milk and a healthy cashew paste made from cashew nuts and water. Best served with our favourite gluten-free Cauliflower Rice.
Ingredients
5 tablespoon

coconut oil - زيت جوز الهند

4

cloves - قرنفل

2 pod

cardamom - حبهان

1

cinnamon powder - قرفة

1 medium

green onions (chopped) - بصل أخضر

5 large

garlic clove (peeled & mashed) - فص ثوم

1 piece

fresh ginger (peeled and grated) - جنزبيل

2

green chili pepper (left whole & pricked) - فلفل أخضر حار

1/2 teaspoon

turmeric - كركم

1/2 teaspoon

chili powder - شطة مطحونة

1 teaspoon

ground cumin - كمون

1 teaspoon

dried coriander - كسبرة جافة

1 1/2 teaspoon

garam masala (Indian spice mix) - جاراماسالا

sea salt - ملح البحر

black pepper - فلفل أسود

4 medium

tomato (pureed) - طماطم

1/2 cup

cashew nuts (made into a paste with some water) - الكاجو

1 1/2 cup

coconut milk - لبن جوز الهند

500 gram

fish fillet (cut into chunks) - سمك فيليه

1 handful

cilantro (to garnish) - كزبرة
Step by step
Heat the oil in a large non-stick saucepan.
Add all spices (cloves, cardamom, cinnamon) and fry for 20 seconds.
Add the onion and cook until golden.
Add garlic, ginger, and green chilies. Stir for 5 minutes, as it gets thicker.
Stir in the powdered spices and salt.
Add the tomatoes and 1/2 cup water and cook over a moderate high heat until all water has dried off. Lower the heat and cook gently, covered, until the masala sauce releases oil (6-8 minutes). Stir as it gets thicker.
Add the cashew paste and stir for 3 minutes.
Add the coconut milk, bring to the boil and simmer covered for 15 minutes.
Taste and adjust seasoning.
Add the fish and cilantro and cook until the fish is just opaque, around 4 minutes or more.
Shake the pan rather than stirring to avoid breaking up the fish.