Yellow Cornmeal Orange Cake
By shahdan • March 22, 2015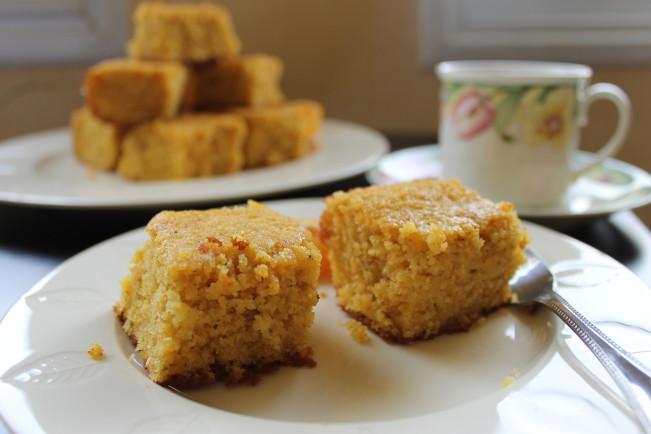 Our grandmas' time, this recipe was as famous as a cheesecake today. Every house had its own recipe and every mother excelled in its baking… I got this recipe from my aunt, who learned it from her mother… It's a cake that has been forgotten and that our generation barely knows…I baked this cake for the first time for an Easter friends and family gathering. "This reminds me of my mother", said almost every person who tried the cake, it opened up a Pandora's Box of memories and childhood stories, and it was the star of the event… Definitely worth trying!
Ingredients
3 cup

cornmeal (yellow) - دقيق ذرة

1/2 cup

flour - دقيق

1 1/2 cup

sugar - سكر

7

egg - بيضة

1 1/4 cup

butter (melted) - original recipe calls for 1.5 cups - زبدة

1 pack

baking powder (preferably the one with mo7assen keik) - باكينج باودر

2 pack

vanilla - فانيليا

1 large

orange (zest and juice) - برتقالة

3/4 cup

milk (squeeze the juice of one orange first in a cup then fill the rest of the cup with skimmed milk. It makes the cake lighter and full of orange freshness) - لبن
Step by step
To make the batter, beat the sugar with the butter until fluffy.
Beat in the eggs and the vanilla.
Add the flour and the baking powder and mix until smooth.
Zest your orange and add the zest to your mix. Then squeeze the orange into a 1-cup measure.
Fill the rest of the cup with milk and stir your orange/milk mix in the batter.
Grease a medium- sized oven tray with butter and bake the cake for 35 minutes in a 180 pre-heated until risen and a toothpick or thin skewer comes out clean from the middle of the cake.
Leave to cool then cut into squares when it is still warm, and move it to a sealed box or any airtight container to keep it nice and moist.