Steak Frites with Mustard Sauce
By shahdan • December 15, 2019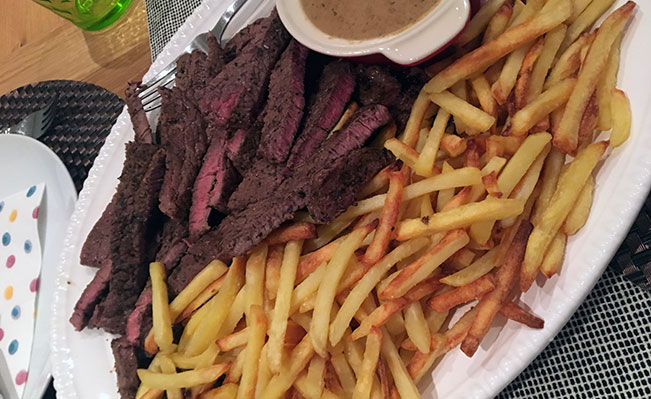 Steak Frites is a French comfort dish… Always a crowd pleaser, especially when elegantly served with creamy mustard sauce on the side. Absolutely delicious!!
Ingredients
6 piece

steak (rib eye, or beef fillets) - شريحة لحم

1 drizzle

olive oil - زيت زيتون

sea salt (to taste) - ملح البحر

black pepper (to taste) - فلفل أسود

1/2 tablespoon

butter - زبدة

1 cup

cooking cream - كريم الطهي

2 teaspoon

Dijon mustard - مسطردة ديجون
Step by step
Take steaks from the fridge 20 minutes before cooking. Pat dry, then rub with a little olive oil on all sides and season with salt & pepper.
Heat a large frying pan until very hot. Sear steak (in batches) for a few minutes on each side until you reach the desired doneness.
Keep cooked steak covered (with foil) to rest until the whole batch is cooked.
In the same pan, lower heat and add butter and cooking cream. Use a wooden spoon to scrape the brown bits from the pan. Add Dijon mustard and stir until sauce comes together. Pour in the remaining juices from the steak, stir, and adjust seasoning.
Slice the rested steak into strips and serve next to French fries and the creamy mustard sauce on the side. Serve immediately.