Kiddie Yummy Cut Out Cookies
By yasmine • January 3, 2016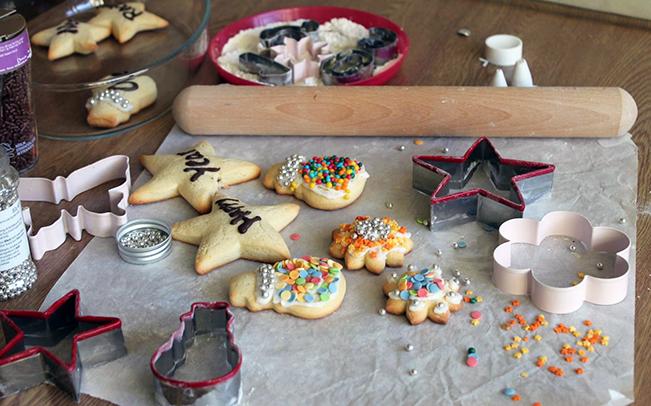 Fun and easy to prepare, these cookies will keep your kids entertained. With no sophisticated ingredients, all you will need is a roller, baking tray and some cookie cutters!
Ingredients
1 3/4 cup

all purpose flour (OR wholemeal flour) - دقيق أبيض

100 gram

butter - زبدة

1 teaspoon

baking powder - باكينج باودر

1 pinch

salt - ملح

1/2 cup

sugar - سكر

1

egg - بيضة

1 teaspoon

vanilla extract - خلاصة الفانيليا

1 teaspoon

cinnamon powder (optional) - قرفة

Icing:

2 cup

icing sugar - سكر بودرة

5- 6 tablespoon

water - ماء

sprinkles - حلوى صغيرة للتزيين
Step by step
Use a handheld mixer to smoothen the butter and sugar together. Then add the egg and vanilla and beat further until all is mixed.
In a separate bowl, combine the flour, baking powder, salt and cinnamon.
Add flour slowly to the butter mix while continuing to blend. If after all the flour you feel the dough is still too sticky add a 1 or 2 tablespoons of flour.
Bring the dough together and put it in cling film or a plastic bag and in the fridge to rest for minimum an hour. This will help with rolling it out and cutting.
Cover a clean work surface with flour and lay the dough in the middle. Rub you roller with some flour too and start stretching your dough on every side - turning it around until the dough is thin enough for cutting.
Dump your shapes into flour every time before you cutting your shapes.
Lay your raw cookies on an oven tray, preferably lined with parchment paper. Pre-heat the oven to 180C.
Place your cookies in the middle of your oven - it only takes 7 to 10 minutes in a preheated oven. The smaller and thinner your cookies are, the quicker they will be done.
Let your cookies cool for 10 minutes before you eat them or start dusting them with toppings like cinnamon, icing sugar or jam.
Alternatively, you can be more creative and decorate with icing and sprinkles. For the icing mix the icing sugar with water (one tablespoon at a time) until you reach a smooth yet relatively thick consistency.
Use a piping bag to decorate the cookies with the icing and add sprinkles on top. Allow the icing to dry before serving.