Butter & Garlic Carrot Bites
By yasmine • March 20, 2016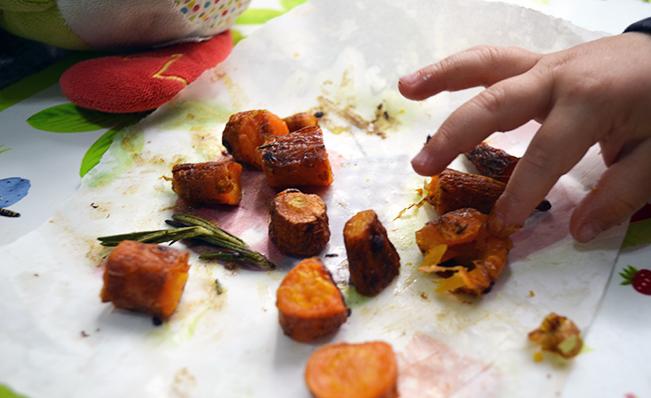 From 12 months.
The best solution to help toddlers (from 1 year) feed themselves is to provide delicious bite size options. At this age they want to be independent and feed themselves with the spoon or their hand, forcing you to get creative with healthy yet tasty nibbles. These carrot bites can be enjoyed warm or cold, are easy to hold in their small fingers and soft to chew.
For more toddler recipes, click here.
Ingredients
3

carrots (use thin carrots) - جزر

2 tablespoon

butter - زبدة

2

garlic cloves (minced) - فصوص ثوم

1/4 teaspoon

paprika - بابريكا / فلفل أحمر
Step by step
Wash carrots very well and cut them unpeeled into bite sizes. Half centimeter circles would be fun for toddlers.
Preheat oven to 180C.
Melt butter in a large pan and add minced garlic and carrots. Stir to coat carrot bites. Sprinkle paprika. After butter is totally melted and before garlic browns, remove from heat.
Cover pan with a lid and place it in the middle of the preheated oven for 10-15 minutes (until carrot bites are soft). Let it cool before serving it to your toddler.