Guiltless Eggplant & Minced Beef Fatta
By shahdan • May 5, 2019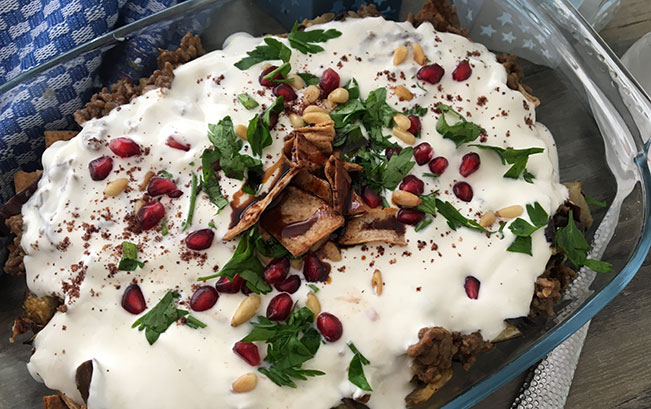 This is everyone's favorite Eggplant Fatta with yoghurt, only lighter than the traditional recipes and guilt-free. Easy to prepare and the flavours are simply divine.
It is a great crowd pleaser in family dinners and especially in Ramadan over Iftar. You will need to double the quantity for a bigger gathering.
This Fatta is a true joy to dig into.
Ingredients
2 large

eggplant - باذنجان رومي

3 tablespoon

olive oil - زيت زيتون

salt and pepper - ملح و فلفل

1/2 teaspoon

garlic powder - بودرة ثوم

1 tablespoon

vinegar - خل

2 medium

garlic clove (grated) - فص ثوم

2 large

shamy bread - خبز شامي

1 small

onion (diced) - بصلة

250 gram

minced meat - لحم مفروم

1 medium

tomato (grated) - طماطم

1 tablespoon

pomegranate molasses - دبس رمان

For the yoghurt topping:

300 gram

yoghurt - زبادي

1 tablespoon

tahini - طحينة

2

garlic clove (minced) - فص ثوم

To garnish:

1 tablespoon

parsley (chopped) - بقدونس

1 tablespoon

pomegranate seeds (OR 1/2 teaspoon sumac) - بذور رمان

1 tablespoon

pine nuts - صنوبر

1 teaspoon

pomegranate molasses (optional) - دبس رمان
Step by step
Preheat oven to 200C. Slice the eggplants into medium cubes and arrange on baking tray.
Sprinkle with salt, pepper, garlic powder and drizzle 1 tablespoon olive oil. Mix with your hands to coat the eggplants well. Place tray in the oven and roast for about 20 minutes, turning the eggplants halfway through, until golden and cooked.
Mix the vinegar with grated garlic and drizzle on hot eggplants. Set aside.
Use scissors to cut bread into small rectangles. Drizzle with 1 tablespoon olive oil and toast in the same oven for 8-10 minutes, turning halfway through, until crispy and golden. Set aside.
Heat 1 tablespoon olive oil in a saucepan and sauté diced onion. Add minced beef. season with salt and pepper and stir frequently until cooked. Add grated tomato and leave to cook for another 3 minutes on low heat, then add pomegranate molasses and turn off heat.
In a bowl, mix the yoghurt with tahini, minced garlic, and salt.
Toast the pine nuts in a small dry pan on medium heat, while shaking the pan, until golden.
To assemble the dish, arrange crispy bread on serving plate. Add the roasted eggplants followed by the minced beef and finally the yoghurt. Garnish with chopped parsley, pomegranate seeds or sumac and pine nuts. You can arrange some leftover crispy bread in the middle of the dish and drizzle it with pomegranate molasses on top.