The Best Tres Leches Cake
By sara belal • February 18, 2016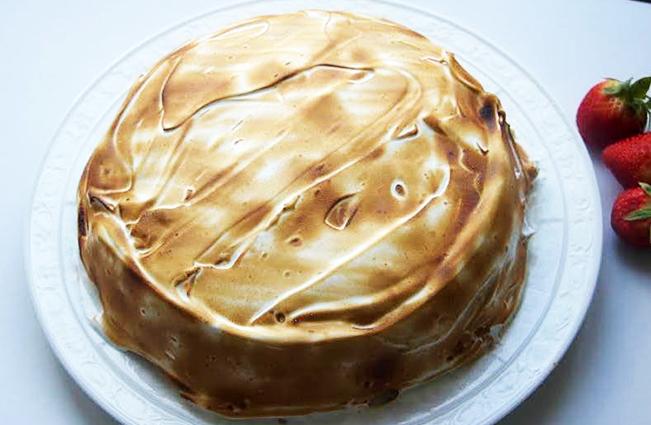 This recipe is an entry to #MyBestDish cooking competition with Easy-Pan.com.
Tres Leches cake is a Latin American recipe that is usually a sponge cake soaked in three types of milk (evaporated, condensed and heavy cream), this cake is the perfect sweet dessert if you have time to prepare it and want to make something truly indulging & impressive. Make it once and I assure you everyone you know will be chasing you for more. I ate this cake in Mexico & here in Egypt at TablaLuna and I've been hooked ever since…
Ingredients
2 cup

all purpose flour - دقيق أبيض

6 large

egg yolk - صفار البيض

6 large

egg whites - بياض بيض

1.5 cup

sugar - سكر

2 teaspoon

baking powder - باكينج باودر

1/2 cup

milk - لبن

1 teaspoon

vanilla - فانيليا

Topping:

1 can

condensed milk - لبن مركز محلى

1 cup

cooking cream - كريم الطهي

1 can

evaporated milk - حليب مبخر

4 tablespoon

water - ماء

1 cup

sugar - سكر

3-4

egg whites - بياض بيض

1 teaspoon

cream of tartar (optional) - كريم الترتار
Step by step
Position oven rack in the bottom 1/3 of the oven and preheat oven to 180C.
To prepare the cake, lightly grease then dust flour to a 23x30cm baking dish and set aside (I used a 25cm spring foam pan) .
Add baking powder to flour and sift them.
Add the egg whites to a medium bowl and beat it on low speed with an electric mixer until soft peaks form. Gradually add sugar while continuously beating. Add egg yolks one at a time, beating well after the addition of each.
Add sifted flour mix to egg mixture, alternating with milk. (Do this quickly so the batter does not lose volume.) Add vanilla.
Add the sponge cake mixture to the baking dish and let it bake until golden (about 25 minutes) or until a toothpick inserted in middle comes out clean.
To prepare the cream topping: Combine evaporated milk, condensed milk and heavy cream in a blender and blend on high speed (or just whisk it really quickly). Remove the cake from the oven and while still warm, pour this cream mixture over it.
Let it sit and cool to room temperature. Cover and refrigerate until well chilled, at least 4 hours or preferably overnight.
To make the icing: Combine water and sugar in a medium saucepan. Bring to a boil then reduce heat and stir to dissolve the sugar. Remove from heat.
In a medium bowl, beat 3 egg whites to soft peaks (here add cream of tartar if using any). While beating, add hot icing in a stream. Beat until all icing has been absorbed, the mixture cools, and a glossy icing forms.
Spread the frosting over the cake, and Using a blowtorch toast the frosting, or if you don't have a torch place the pan under an oven broiler until lightly browned (be careful in this step not to burn it). Cut and serve, this type of frosting is best served within an hour, but I usually keep for a day and it still holds its shape.
Note: There is an easier frosting which is even more popular and considered the authentic Tres Leches, just beat one cup whipped cream and 1 tablespoon confectioners sugar (سكر بودره) with 1/4 teaspoon vanilla extract until stiff peaks form. Spread the whipped cream over the chilled cake.